For years most of my big decisions were based in fear. I worried about what might happen and more often than not choose the "safer" choice- but not the choice that would make me happy, not the choice that was really right for me.
Fear-based decision making isn't even really about achieving a desirable outcome- it's usually an attempt to calm the fear I'm feeling in the moment.
Fear-based decision making is also strongly influenced by assumptions, expectations, and judgments. I fear what others might think of my choices so the safe choice is to do what everyone else did, or what someone else thought was right for me.
"Fear is a darkroom where negatives develop." ~Usman B. Asif
When I look back at my life every single time I made a fearful choice, the outcome of that choice was undesirable. Even knowing this, fear's influence remains strong when I'm faced with a major decision.
Recently I was faced with a big decision- what to do about the burnout I was experiencing on the job. I was looking for another job but in the meantime I stayed at that job, continuing to overwork myself and expose myself to bullying from a particular manager.
What could I do? I need a paycheck to pay the bills. Some of my friends and family advised me to "play it safe" and keep my job until I found another one. Even though the job was literally making me ill, I had no choice, right?
Then I realized that was the fear talking. I had no reason to believe I wouldn't be able to find another job right away. I was making myself sick over a worst-case-scenario that may or may not happen. I was willing to continue to live in an unmanageable situation to avoid the possibility of a different unmanageable situation in the future.
I thought back to my one word goal for 2013- fearless. Right, this year I'm making a conscious choice to fear less. I kicked fear to the curb and took a leap of faith. Instead of giving in to fear, I chose to believe in myself! I chose to believe that a positive outcome is just as likely as a negative one- and it was! I gave notice of my resignation without another job lined up and found another job almost right away.
"Avoiding danger is no safer in the long run than outright exposure. The fearful are caught as often as the bold." ~Helen Keller

Sure, my situation could have worked out differently but I didn't make a rash decision, I made the best possible choice I could in that situation.
I analyzed our finances and came up with a plan to get by if I didn't find another job right away. I started cutting unneeded items from our budget. I was prepared to take a temporary position with a tax preparation service. If I couldn't find a job, I could dip into our savings. My backup options were not ideal but neither was working myself sick and getting bullied at my job!
In the end I didn't have to resort to my worst-case-scenario options. My worst fears didn't come true, and I was able to remove myself from an unhealthy work situation. Fear – 0, Faith – 1!
I don't know what will happen in the future. Situations may work out the way I hope they will, or they may not. I can't know how it will work out but I can choose to make wise decisions based on what is right for me instead of making decisions based in fear. One thing I've learned is letting Captain Fear steer the ship I'm not making healthy and loving choices.
"I am not afraid of tomorrow, for I have seen yesterday, and I love today." ~William Allen White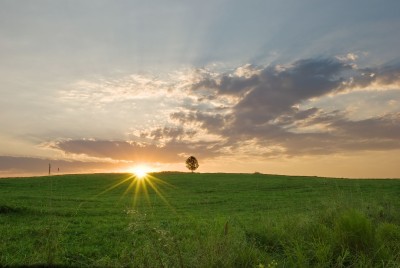 Photo credit: Copyright (c) 123RF Stock Photos
I love your comments! When you made a choice motivated by fear, how did it work out for you? Are you facing a major decision today? What would happen if you made the choice that you know is right instead of listening to fear?