Do you believe in you?
Recently Farouk wrote an excellent gust post: 4 Beliefs of Successful (and Happy) People. In this post Farouk shared one belief that really stuck with me: successful people believe in themselves.
This lead me to thinking about how to believe in yourself; especially if no one else believes in you.
Recently, an influential person in my life shared a harsh criticism of me which prompted me to write How To Deal With Criticism. While I didn't agree with his assessment of my abilities, I temporarily allowed his opinion to overshadow my belief in myself. The problem wasn't that I believed he was right in his opinion. The problem was that I feared continued criticism, and for a short time, I allowed this to hold me back.
Despite my fear of future criticism, I chose to believe in myself and keep doing my best. I refused to let anyone else's opinion of my work undermine my honest efforts and the great results that I know I can achieve.
Here are a few ways to believe in yourself, even if no one else believes in you:
Align your behavior with your values
Your values are the beliefs about your work and your life that guide your purpose. You may value personal health, community, honesty, development, personal wealth, or business profitability. Whatever you believe in, your core values inform your sense of self.
When you believe in what you're doing, you believe in yourself. If, on the other hand, your actions are at odds with your core values you will loose faith in yourself at the first sign of rejection.
Align your choices with your intentions
Your intentions are the desired results of your actions; they are your goals. If your goal is to live a healthy life, it's important to make choices that support your goals.
When your choices are aligned with your intentions, you believe in yourself because you're clear about where you're headed, regardless of what anyone else thinks.
Discover other sources of support
If no one you know supports your ideas, you can choose to look elsewhere for support and encouragement. Find people who are working towards similar goals and build relationships with people who share your values and intentions. It's easier to believe in yourself when you share your purpose and progress with people who are on a related path.
Tell yourself you can
The way you treat yourself has a significant impact on your belief in yourself. Be mindful of the messages you think and say about yourself.
If you tell yourself you can't do it, it's likely that you won't be able to only because you believe it's true. Tell yourself you can do it. Better yet, look at yourself in the mirror and say, "I believe in you!" This exercise may feel awkward and uncomfortable, but I can tell you from experience that it works!
If you are too afraid to try, that is also a message to yourself. Making even one small step in the face of your fear tells yourself you believe in you!
Always do your best
When you know you tried your best, it matters less if things don't work out the way you wanted. You know there's nothing you could have done better, and you have the opportunity to learn from the situation to do better next time. Each setback is a building block for future success.
Celebrate your accomplishments
If you focus intently on achieving your goal you may find it harder to believe in yourself until you reach your goal. Instead, you can celebrate your accomplishments along the way. Acknowledging your progress builds your confidence. You're on your way- keep up the good work!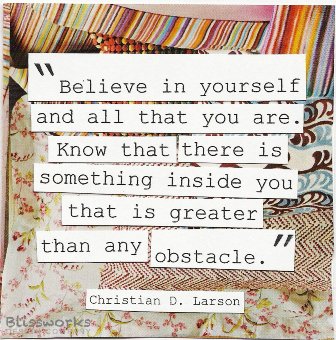 Image courtesy of Blissworks Design Company.