When I tell people I write about work-life balance the response I get most often is, "I need some of that!" Don't we all?
The problem is we tend to think of work-life balance as a destination we hope to arrive at one day but like most of the things we want in life (happiness, love, success) work-life balance is a way of living, not a badge received at the end of the race.
Work-life balance is all about balancing your body, mind, and heart. It's not about how much time you spend but how you spend your time. You don't have to be perfect to enjoy balance in your life- just do what you can.
You can start today by discovering small ways to create a life that is more balanced, and then all you have to do is keep it up! Some days this will be easier than others, and that's okay. Keep trying. Keep practicing. This is a life well-lived in the making and you do it every day.
Okay, so how do you do it every day? I've got some ideas about that.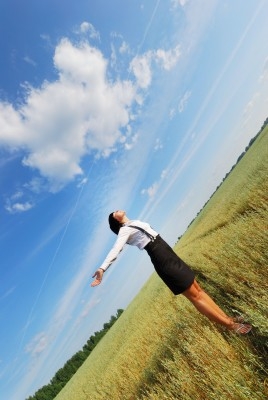 Photo credit: Copyright (c) 123RF Stock Photos
The Dos & Don'ts of Work-Life Balance
Do
create balance in your life every day.
Don't
make excuses for putting balance at the bottom of your priority list!
Do
enjoy at least 15 minutes of "me time" each day.
Don't
skip taking breaks at work. You'll be more productive if you take breaks, I swear!
Do
stay hydrated and eat good food.
Don't
gorge yourself on junk food. A little is okay in my book- remember balance is the goal!
Do
take naps. Naps are a great way to recharge.
Don't
stay up too late arguing politics on Facebook, or indulging any of your other internet vices! 😉
Do
declutter your digital life. Get rid of the things that aren't adding value to your life.
Don't
plop yourself down on the couch and channel surf. Enjoy shows and movies you love and then get up off the couch and do something else!
Do
get some exercise! Exercise comes in many forms- walking the dog, housecleaning, biking, running, yoga, or everyone's favorite activity- going to the gym.
Don't
push yourself beyond your limits. Find your limit and stretch into it instead of just recklessly pushing beyond it.
Do
spend time with people you love.
Don't
let your dislike of other people get you down.
Do
have fun every day! Life is as fun as you make it!
Don't
forget to smile! A smile a day keeps stress at bay.
Do
check one item off your to-do list.
Don't
expect yourself to do it all.
Do
say no when you need to.
Don't
feel guilty about saying no.
Do
let go. Let go of your worries. Let go of your fears. Let go of your judgements. Just let go.
Don't
take on other people's attitudes, emotions, or actions. If it doesn't belong to you there's nothing you can do about it, anyway!
Do
accept yourself as the beautifully imperfect individual you are today. All you can do today is the best you can, where you are right now.
Don't
put yourself down for making mistakes. Mistakes are okay!
Do
be kind to yourself and others.
Don't
complain. Complaining is bad for your soul, and probably your complexion, too.
Do
love! Love yourself! Love others! Love your life! YEAH!
I love your comments! What other dos and don'ts do you have to share?