Confidence is everything. Confidence builds trust. Confidence informs good decision-making. Confidence leads to success!
Lack of healthy self confidence holds us back from making the best of our lives and ourselves. Don't let insecurity get between you and a happy, fulfilling, intentional life!
One day I met a successful business woman that was clearly intelligent but her words belied her competence and skills. In the course of our conversation she apologized several times, though she had not misspoken or erred. She used hedging language like "I think" and "I believe" when talking about her professional expertise. Her sentences ended on a high note as if asking a question instead of making a statement.
Here I was, having a conversation with an accomplished woman that clearly lacked confidence. The exchange made me reflect on my own past insecurities. When I started in the working world, I didn't have much self confidence. I was terrified of making mistakes and I didn't believe in myself. I knew I was good at some things, but I didn't believe I was good enough.
It wasn't enough for me to just stumble through my life- I chose to make the best life. I worked on building my confidence and here I am today- confident, capable, and kick-ass!
How To Build Confidence
Take a deep breath
Confident people are cool, calm, and collected so take a moment and collect yourself. If you've got an important meeting or conversation, take a deep breath before you speak. Stand or sit tall. Fill your lungs and send all that good oxygen to your brain.
Smile
Smiling puts others at ease. The more the people around you are easy-going, the more you'll feel at ease, too. It's an awesome example of getting what you give!
Fake it till you make it
If you don't feel confident you can fake it till you make it. The more you practice confidence, the more confident you feel. Keep practicing until you get there!
Speak confidently
We all have poor speaking habits that get in the way of our inner awesome shining through. Watch out for hedging language, stopping and starting, crutch words, nervous fiddling, and turning statements into questions.
You can create great speaking habits and build confidence in Toastmasters.
Do your best
When you do your best each and every day you get better and better at whatever you do. Get really good at something you enjoy and be your best!
Stop comparing yourself to others
When you compare yourself to others, you sell yourself short. This is your life, not anyone else's. Live it, love it, make it great!
Believe in yourself
Confidence isn't about what you can do but what you believe you can do. You've got mad skills! You kick ass! Believe in you!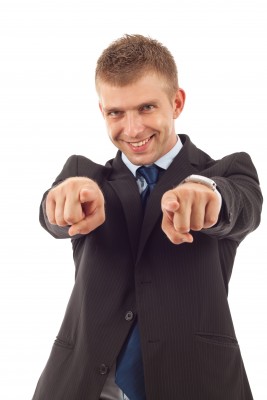 Photo Copyright (c) 123RF Stock Photos
If that's not enough tips for building confidence, here are even more ways to build self esteem!
I love your comments! Are you confident? If not, what's holding you back?