Loving life is a practice of living with joy, mindfulness, and wisdom every day. Living a great life is all about choices, and in 37 years of life, I've learned to make choices that embrace happiness.
Yes, today is my birthday, and I invite you to join me in celebrating the greatest life lessons I've learned in 37 years.
37 Great Life Lessons
1. Happiness is a choice.
2. You don't need life to go your way to be happy.
3. Be in awe of this moment.
4. If you want to be happy, stop complaining.
5. Asking for help is a sign of strength.
6. At any moment you can reboot your day.
7. Sometimes you have to drop the ball to give another the opportunity to pick it up.
8. Allowing others to do for themselves shows your confidence in them.
9. Confidence is essential to living a great life.
10. Be yourself. Your uniqueness is the most awesome thing about you!
11. Admit and forgive mistakes.
12. Mistakes are lessons in progress.
13. Make living amends by changing hurtful behavior.
14. Live life on life's terms.
15. When you don't know what to do, do nothing.
16. You're never as stuck as you think you are.
17. Just for today, love yourself enough to give up the struggle over something that is out of your hands.
18. Treat yourself the way you want others to treat you.
19. Before you speak, THINK. Is it True Helpful Inspiring Necessary and Kind?
20. Smile more.
21. Be grateful.
22. Be playful.
23. Be patient.
24. Laugh every day.
25. Ease into your resistance; there's a lesson in it.
26. Try something new.
27. Don't take life too seriously.
28. Say no, and mean it.
29. No is a complete sentence. Excuses and explanations are not required.
30. Your opinion of yourself is more important than someone else's opinion of you.
31. Take care of yourself before taking care of others.
32. Use your strengths and build on your weaknesses.
33. Trust your instincts.
34. Sometimes FEAR is Future Expectations Appearing Real.
35. Don't believe everything you feel.
36. A positive attitude can get you anywhere you want to go.
37. Your attitude influences your experience more than you know.
Thank you!
One of the most important lessons I've learned in life is to say thank you, so let me take this moment to thank you for supporting Live Love Work.
Thank you for reading; thank you for your comments, subscriptions, and sharing! You inspire me every day to keep living and sharing my best life!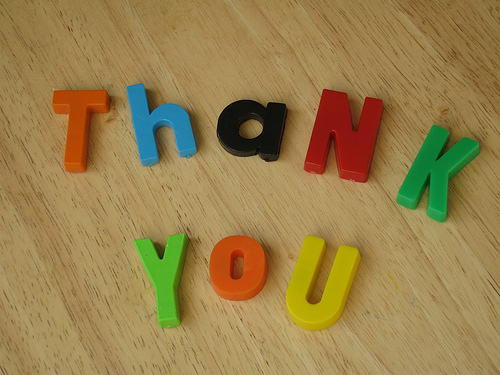 I love your comments! What are the greatest lessons you've learned in life?
Image courtesy of vistamommy.