Since starting this blog I've empowered my goal of living a great life and having a great day every day. I'm pleased to say I've had far more good days than bad, and the abundance of good days help get me through the bad days that happen from time-to-time.
As I practice the positive, healthy behaviors and attitudes I write about, I enjoy more happiness and more success! I sleep better, feel better, and more opportunities come my way. I make greater progress towards my goals, and my co-workers are more pleasant, or so it seems to me thanks to my positive outlook.
Here's how I live a great life and experience great days:
1. Decide to have a good day.
Say it out loud, "I'm going to have a great day today!" Making the decision to have a positive experience determines your mood, your attitude, and your approach to your day.
Once you've decided to have a good day, other people will be attracted to your positive energy and are more likely to approach you with a smile.
2. Be productive.
Completing a simple task or accomplishing a personal goal feels great!
You can get satisfaction out of tasks you don't particularly enjoy if you appreciate the results of your efforts- even if the result is crossing an annoying item off your to-do list and moving on to something you enjoy!
Better yet, spend time working towards one of your goals. Do at least one activity in pursuit of what's important to you.
3. Stop stereotyping your day.
I often hear people express dread when Monday comes around again, as if Monday is inherently a bad day. Monday is just day like any other and it's as good or as bad as you make it out to be.
You can have a great Monday and a terrible Friday. It's true I enjoy Friday for my beginning of the weekend routine, and look forward to two days of fun and rest. I also enjoy Monday for the beginning of the week routine I've created for myself.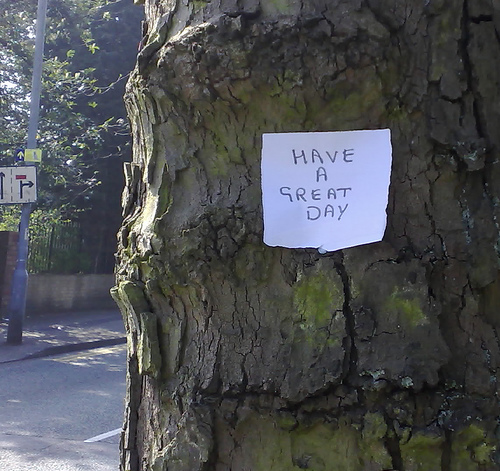 4. Let the little things go.
Many of the bad things that happen in your day are really just minor annoyances that don't have any more power over your day than you give them.
So someone cut you off in traffic or you spilled coffee on your shirt. Do either of these events have a significant impact on your life? Do you still have a job? Your home? Your health? Your family? Don't sweat the small stuff.
5. You don't need everything to go your way to be happy.
Happiness is not something that happens to you, it's something you choose. When you feel happy, you're embracing appreciation and joy in your heart. Resist thinking you can't have a good day unless things work out the way you want.
If something doesn't go your way, recognize it for what it is. Perhaps you feel disappointment. Acknowledging these feelings as simply feelings can keep negative emotions from defining your day. Disappointment can be disappointment, and you can still be happy and have a great day!
6. Practice makes progress.
Perhaps you thought I was going to write, "practice makes perfect", but I don't believe in perfect. I believe in progress.
Just for today, let go of the belief you won't be happy until… Be happy now for all the great things in your life right now. Nobody has a perfect life and no one ever will. So practice positive habits every day and you'll quickly find that you're experiencing a great life even when life challenges you.
I love your comments! How do you have a great day? What does a great life look like to you?
Image courtesy of H4NUM4N