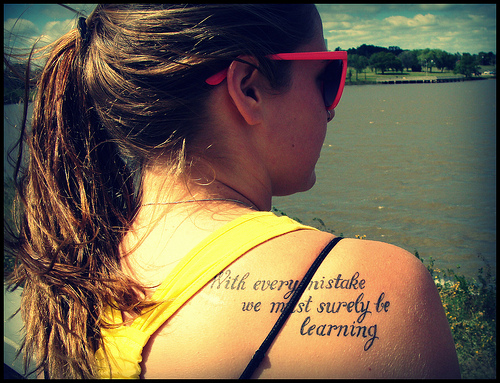 As a recovered perfectionist, I used to hate making mistakes. I believed mistakes were proof of my shortcomings. I'm grateful I no longer fear making mistakes, I even embrace them!
The truth is we all make mistakes, big and small. Most of the time mistakes can't actually be avoided because at the time they are made, we lacked the insight and wisdom to have acted differently.
Learning to make the best of mistakes is the result of greater awareness, respect and confidence. Here's how you can make the best of your mistakes and turn them around from a negative to a positive experience.
Admit it.
You must recognize a mistake was made before you can take positive and productive action.
Own it.
Accept responsibility for your part in the misunderstanding or error. Owning your part allows shows respect for yourself and others.
Embrace it.
Discover what you can learn from your mistake and use it to your advantage. Embrace the opportunity to spark a new idea or awareness.
Listen to feedback.
Listen openly to any feedback you receive about your mistake. Set aside emotional responses and focus on the facts.
Make amends.
If you made an error that affected someone else negatively, apologize. A simple "I'm sorry" honors the experience of those affected.
Correct it.
If possible, take steps to correct the error or offer alternative solutions.
Accept consequences.
Sometimes there will be consequences and it's best to accept consequences with dignity and grace. Accepting a situation for what it is allows you to be open, honest and teachable.
Don't sweat it.
A mistake happened and hopefully you learned from it. Mistakes are allowed, no matter what anyone tells you. Believe it for yourself and you'll be a lot happier in life.
Be kind.
You don't deserve to be beat up over a mistake by yourself or anyone else. Don't beat up anyone else over a mistake, either.
Move on.
Don't dwell on your mistakes, learn what you can and let them go. The best way to re-build confidence and credibility is to move on from mistakes and continue to do your best work.
Mistakes provide the opportunity to learn and grow. Don't let fear of mistakes stop you from trying, and don't let embarrassment over your mistakes stop you from living. Embrace your mistakes! Laugh at them, too. You can make the best of your experiences.
I love your comments! Do you have a difficult time moving past mistakes? What helps you make the best of it?
Image courtesy of graceish