What do you want in life- happiness, comfort, health, safety, success, love? I want all of these things, and more!
I used to think these things came to those who were most deserving, but I know I haven't always gotten what I deserved.
For a time I thought these things came to those who did what they were supposed to do. I did all the things society told me to do and still I didn't have what I wanted.
I thought maybe I could have these things if I worked really, really hard for them. So I worked hard and even made some progress but the more I pursued the result I wanted the more my physical and mental health declined.
All that time I was looking for the the things I wanted in life from the outside-in when the things I wanted in life really come from the inside-out. Today I don't have it all. I do have enough, though. I have a good life, and that's all I really wanted.
How to get what you want in life
Know yourself
I used to live most of my life reacting to whatever happened and I didn't have much time or energy to stop and get to know myself. Today every day is a journey of self-discovery and I make conscious choices about my life from a place of wisdom and truth.
Know yourself, really know yourself. Know yourself without conceit or shame- don't judge, just know the truth of you.
Accept yourself
There's always something I'd like to improve upon, and pursuing a life of enrichment and growth makes my life worth living, but before progress comes acceptance. When I didn't accept myself it was harder for me to move past where I was because I ignored or rejected myself as I truly am.
Accept yourself as you are, and all the experiences that brought you to this place- even if it's not the place you want to be. If you don't accept yourself completely you'll have a harder time getting what you want.
Love yourself
A long time ago I didn't like myself much. I focused on my shortcomings and imperfections and I didn't make much progress on my goals because I was too discouraged to allow myself to succeed. Fortunately I learned to love myself, and progress followed.
Change isn't built upon hate, only love. Love yourself, you deserve it, and it's the basis of getting what you want!
Know what you want
For years I chased after the wrong things trying to get what I want. I didn't really want an impressive-sounding corporate job- I wanted financial security. Turns out financial security didn't come from a job- it came from my own budgeting and planning.
Think about what the life you want looks like and feels like to you. What does that job really mean to you? How will your life really be better once you get that raise? Why do you want that house/car/gadget and is it really going to meet your needs? Know what it is you really want, not just what you think represents your desires.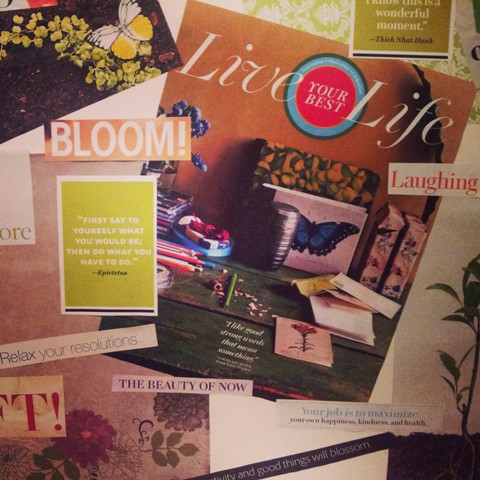 Visualize your dreams
I surround myself with words and images of my heart's desire. I'm a big fan of vision boards– made with scissors, paper, and glue, or made with images, text, and technology. My vision board represents what I want and gives me inspiration and motivation every day.
Give a vision board a try! Collect images from magazines, calendars, and books, or collect images on the internet and use them in your screensaver or Pinterest board. Let your vision guide and inspire you!
Be intentional
I used to worry and stress and turned problems over and over and over in my mind. I thought about what I didn't want and I attracted those very things to my life. When I focused on the things I wanted and I got those, too. Today I pay more attention to things I want then the things I don't want. I choose my outlook and attitude.
Be intentional in your life. Wake up and decide what kind of day you're going to have today. Ask yourself, do these words, thoughts, actions lead me to my dreams? Pursue those things that align with your goals and avoid those things that don't.
Live for today
For years I thought I'd be happy when… when I got what I wanted. Since there's always something to want I was left wanting. I started living for today and I got a whole lot happier with life exactly as it is today.
Pursuing the life you want is a wonderful exercise but don't save up all your happiness for someday. Embrace the journey, love every moment, and live for today!
Want the life you got
Let me sum up everything I've learned about getting what I want in life- wanting the life I've got! If I can't be even a little happy for all I have today then I'm not going to be happy with what I get tomorrow.
Be grateful! Look for rainbows! Find the hidden, and not-so-hidden, treasures in your life- embrace them! Want what you've got and you'll get exactly what you want.

I love your comments! Do you usually get what you want? Do you want what you get?