Email communication isn't just about getting work done, it's about building relationships and reputations. Effective email communication isn't as easy as it seems and poor email etiquette is all too common in business, and life, today.
The way you communicate with others not only communicates information contained in your email, it also contains information about you- who you are- your brand.
Effective email communication shows others you are:
Knowledgeable
Experienced
Competent
Organized
Prepared
Trustworthy
You want to show you've got all these excellent qualities, right? I know I do!
I'm going to skip over some of the more obvious email rules like spell checking, using "reply all" carefully, and attaching documents. Let's get to the good stuff, shall we?
Six Email Rules for Good Communication
1. Greetings and Salutations
Start your email with a proper greeting, including the intended recipient's name. It's not only polite, it shows respect, personalizes your email, and builds positive relationships.
It's also helpful to get in the habit of addressing the recipient directly to avoid confusion when it is necessary to cc additional recipients.  Using a personalized greeting instantly tells anyone reading who you are addressing. This may not seem important until you realize no one has replied because everyone on the send list thought someone else was handling it.
2. Get to the point
We're all busy, and many of us are overwhelmed with digital information. Try to be concise and get to the point of your email "above the fold". The most important information in your email should come at the beginning of your message because, let's be honest, most of us skim emails and may not bother scrolling down to read more if the email doesn't seem all that important.
In addition, many people check email on their phones where brevity is appreciated!
3. Make it count
Sometimes I get email that I read through several times and I'm not sure if there's action needed or what, exactly, the sender is trying to communicate.
If you are assigning action items, or you're summarizing important details, use bullets & numbering to highlight key points and questions. When glancing over your email the reader will have a better understanding of what they need to know, and what they need to do next.
(This one works for blog posts, too!)
4. Link it up
When sharing information in an email, include a link to the referenced resource, policy, or website whenever possible. If the information you are sharing is important, make it simple and easy for recipients to take requested action, get more information, or share the information with others.
Think of it this way, if someone sent you an email raving about the funniest video they've ever seen without linking the video, would you go searching for the video or simply delete the email and move on with your day? I know what I'd do.
5. Mind the subject line
It's very important to use a descriptive subject when composing your message. Avoid blank subject lines and vague subjects such as "FYI", "One more thing", "Our conversation", etc. Be specific! Reference the topic, such as a unique meeting, report, time period, or request.
Instead of "tomorrow's meeting" try something along the lines of "05/05/12 Budget Meeting". A descriptive subject line allows the recipient to quickly prioritize your message, as well as easily reference it again if needed.
6. Add value
When composing a new message or replying to email be mindful of adding value. Build a reputation as someone that has something valuable to offer! Consider your audience and only share information that will be useful to the recipients.
And while we're on the subject, I'm going to share a personal email pet peeve- using reply all to thank the original sender. Although I advocate courtesy and respect, I suggest you avoid replying-all just to write "thanks". If you're not thanking me personally, I don't need an extra email in my inbox to let me know you've acknowledged someone else.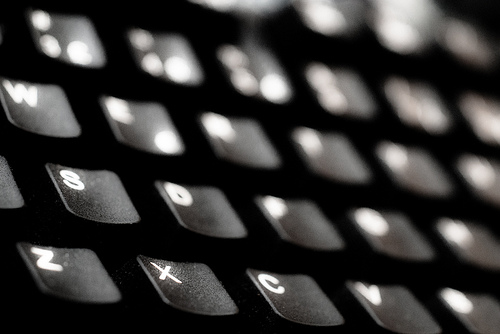 Image courtesy of newfilm.dk
Email is a great communication tool when done right! When poor email etiquette abounds, the message often doesn't get through and this can lead to misunderstandings, miscommunication, and missed deadlines.
When composing an email stop and think about ways to show the recipient you are knowledgeable, experienced, competent, organized, prepared, and trustworthy through the way you communicate. Use email to share information as you form positive connections!
I love your comments! Do you use any of these rules? What other email rules improve communication and build great working relationships?