If you think, "I'll be happy when…", it's likely you won't ever be truly happy in life. Do you wonder when you'll finally be happy, when it will finally be your turn? Happiness is a journey, it's not a destination.
Happiness isn't
Too often we put conditions on our happiness. Perhaps you think that happiness is getting what you really want in life. You may experience happiness for a day and be unhappy the next because happiness must be experienced, it cannot be achieved. Happiness can't be bought, sold, or owned.
Happiness isn't perfection. Happiness isn't being the person you want to be, or having the things you want to have. Happiness isn't an external experience, it's an internal experience.
Happiness is
gratitude
laughter
love
joy
peace
comfort
calm
Happiness is all of these experiences and many more. Things go wrong and things go right. Experiencing happiness in this moment is as simple as embracing the good stuff and letting go of everything else.
There are many paths to happiness, and many expressions of happiness. Be aware that happiness is all around and all you have to do is connect to the happiness inside you.
Happiness is your innate nature. Embrace it. Live it. Be happy every day, not because something good happened to you, but because happiness is the spark of something good happening inside you.
Happiness is a journey, not a destination.
"For a long time is seemed to me that life was about to begin — real life. But there was always some obstacle in the way,  something to be gotten through first, some unfinished business, time still to be served, a debt to be paid. At last it dawned on me that these obstacles were my life. This perspective has helped me to see there is no way to happiness. Happiness is the way. So treasure every moment you have and remember that time waits for no one. Happiness is a journey, not a destination." ~Alfred D'Souza
If you aren't happy today, please know that you can be. If you truly can't be happy today, know you can be happy tomorrow, or the next day, or the day after that.
Stop waiting for life to get good and embrace the good in you. Talk the talk of happiness and walk the walk. Choose to be happy and you will be. Be happy for this moment and all the brilliance here and now.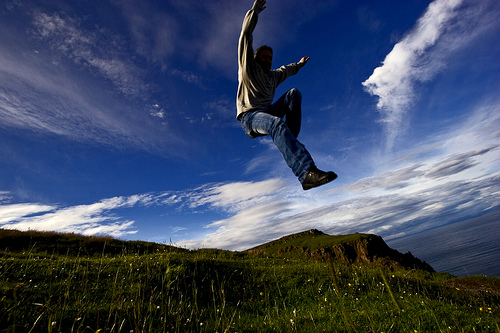 I love your comments! What is happiness to you? How do you embrace happiness in your day?
Image courtesy of Pensiero