Deciding to be happy is about choosing an attitude and lifestyle that promotes joy and love in your life. Often negative thinking weighs us down and we forget, or never knew, we have a choice in our happiness.
Happiness is an inside job, after all. If you're waiting to be happy for your life to be perfect, I'm afraid you'll be waiting a long time.
There will be times when legitimate struggle overwhelms life and the idea of choosing happiness doesn't mean you ignore other necessary and important feelings. All our feelings serve a useful purpose, or did at some point in time, but it's easy to get stuck in negative feelings.
Sometimes it's enough to know you have the choice to decide which feeling you focus on, choose to carry with you all day, and present to others. If you're grieving, you may choose to sit with that loss until you're ready to move on. Just know that when you're ready, happiness is there waiting for you to choose it.
Think about the last time you got stuck in traffic on the way to work, spilled your coffee, or misplaced your keys. Do these types of setbacks ruin your day? At the end of the day do you still have your health, your home, your job? Is your life more-or-less the same tomorrow as it was this morning? You don't have to let minor inconveniences get you down, choose happiness instead!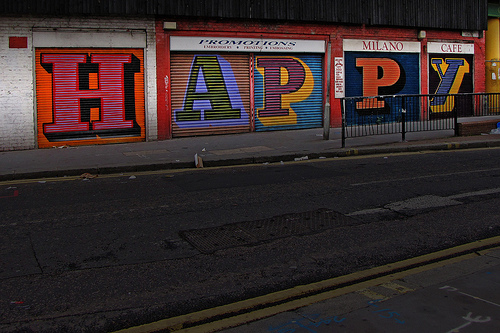 If you're ready to opt for happiness, check out these awesome links for happy thoughts, happy ideas and happy inspiration!
The Happiness Project: How to be happier- in four easy lessons Gretchen Rubin offers four truths of happiness. Simple and inspiring!
Global One: 21 Habits of Happy People Twenty-one great habits that cultivate happiness.
Jaclyn Rae's Blog: 50 Ways to Scatter Sunshine Fifty wonderful ideas to bring joy to life!
Chief Happiness Officer, Alexander Kjerulf: My TEDx Talk Want arbejdsglæde? Watch Alexander's talk at TEDx Coppenhagen to find out what arbejdsglæde is and how you can have it!
Live Love Work: Work Happy: How to be happier at work Check out my article on creating happiness at work (and beyond!)
I love your comments! How do you practice happiness?

image courtesy of Leo Reynolds