I couldn't be more excited to attend the amazing BlissDom Conference next month in Nashville, Tennessee and get my bliss on! Although this will be my First Bliss, I am preparing to make the most of it and have an awesome conference experience!
Attending conferences provides excellent opportunities for networking, training, and personal and professional development. Whether your employer or business partner is sponsoring you, or you're paying your own way, you can increase the value of your conference experience with a little preparation. After all, why spend your money, time and energy on activities that don't fully enrich your life?
Here are a few tips to improve your conference experience:
Before the Conference
Network, connect, engage.
Connecting with other attendees before the event is a great way to meet new people, build stronger connections, and break the ice.
Some ways to network before the conference include attending organization programs and meetings, following and participating in the conference hashtag on Twitter, and RSVPing to the event on Facebook, LinkedIn or other social media.
Practice your elevator speech.
Be prepared to tell people what's important to know about you! The goal is to describe yourself in 1 – 3 sentences.
What are you passionate about? In what way are you unique and amazing? If you had a tag line, what would it be?
Order business cards.
Exchanging business cards is a great way to follow up your elevator speech with a powerful branding statement and provide your contact information. Don't settle for boring business cards- let your cards reflect your passion and purpose!
Set your development goals.
To get the most out of your conference, decide what you want to take away from the event. Perhaps you want to make 5 new contacts, meet a particular speaker or sponsor, or learn a specific skill.
Consider what you truly want to achieve and make your goals a priority during the excitement of the event.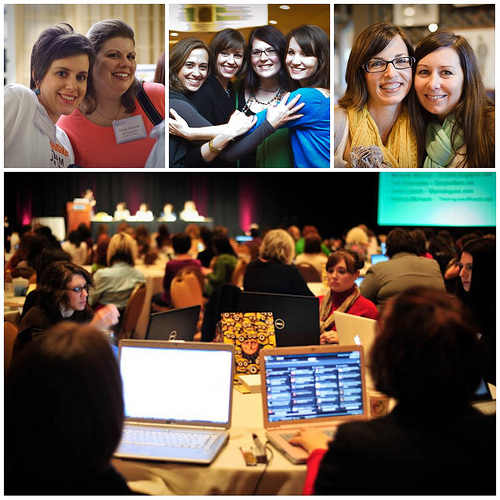 At the Conference
Bring a pen and paper to sessions.
We all love technology, however I prefer to minimize distractions and take notes with good old fashioned paper and pen. Keeping it simple helps me focus on what I'm there to learn.
Move your body
Get up and move to another seat between sessions. Don't stay camped out in the same spot the entire conference. Moving around you energizes your body and mind, and provides more opportunity to make connections.
Make progress on your goals.
Meet the people you wanted to meet, and attend the sessions you wanted to attend. Keep your goals in mind throughout the event.  You don't have to participate in every event to have a great conference experience, instead focus on making progress towards your goals.
Talk to strangers.
Approaching new people can be intimidating, but I encourage you to make good use of your artfully crafted and well practiced elevator speech. You can start by taking a deep breath and saying, "hello".
Smile.
Smiling improves your mood, and the mood of those around you. It also makes you far more approachable and open to others.  Whenever you can, smile. Chances are you'll get more out of your conference with a smile than without.
Take care of yourself.
There's often so much going on at conferences it can be easy to skip meals, indulge in caffeinated or alcoholic beverages, and stay up all night. Don't forget to take care of you!
Leave home at home and work at work.
You may get caught up thinking about important people or projects at home and cause yourself unnecessary stress. Avoid worrying about work and home and make the most of the experience you're having in the moment.
Have fun!
Life is an adventure; don't forget to have fun at everything you do!
I love your comments! What other conference tips do you have to share?
If you're attending BlissDom, please introduce yourself. I'd love to connect with you!
BlissDom 2010 image courtesy of Dawn Camp, collage by justmalia