In today's digital world, business cards may seem passé, but networking cards are a great tool for building your professional brand, networking, and generating business opportunities.
Chances are you'll be looking for a new job, new clients, or to increase your audience at some point in the near future. Don't wait until you need your network to build your network! Being prepared with quality networking cards lets your contacts know who you are and how to contact you.
Why you need a business card:
You may meet professional contacts in person and a business networking card is a quick and easy way to exchange information. Your website url, name or email address may be difficult to remember when relayed in casual conversation.
As a job seeker, career professional, blogger, or business owner, a diverse and engaged network can help you achieve your goals! A business card is an accepted and professional way to exchange information.
Here are some situations where having a business networking card is useful:
Networking events, such as professional association meetings, professional training and seminars, and conferences.
 Striking up a discussion with a potential contact on the commuter train or at the airport during a business trip.
After answering the dreaded "what do you do?" question at parties.
A business partner, co-worker or friend refers you to one of their contacts.
Requesting a business card from your interviewer, and providing your business card at the close of your job interview.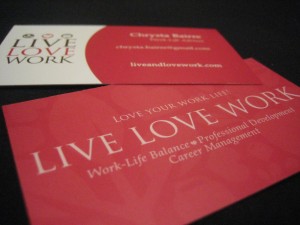 As a note, ask for your contact's business card and immediately send them a follow up email and connect with them on LinkedIn, Twitter, etc. You don't want to wait to connect until you no longer remember who they are or where you met; connect right away, offer value, and your network will give back to you when you need it.
Why you need a personal business card:
If you are employed by an organization you may already have a business card for your organization, however it's a good idea to have your own business networking card for the following reasons:
Don't exchange your organization's business card if you are not expressly acting as a direct representative of the organization.
Organizations are constantly changing and you want your contacts to have stable contact information, such as an email address and cell phone that you maintain as your career grows.
You can provide the url to your blog, LinkedIn, and other social networking profiles.
A personalized business networking card can highlight your skills and experience, values and goals. Consider including a bulleted list of your expertise.
Designing your personalized business card:
You can create inexpensive personalized business cards using business card templates on popular printing sites such as Vista Print, Zazzle or MOO.
Here's some important information to consider including on your networking card:
A professional email address such as firstname.lastname@gmail.com
Your cell phone number (with a professional voice mail greeting!)
Your LinkedIn, Twitter, Google+ and other professional social network profile
A tagline describing your values or goals. My networking card used to read, "Mindfulness and accountability in business"
Bulleted list of your areas of expertise
A professional photo of yourself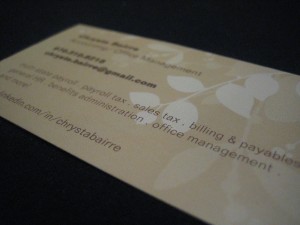 Market yourself!
Modern business cards come in bold colors and graphics, as well as printing on the back and front of the card so don't feel limited by traditional business card designs. Create a card that tells a story about your career. Your networking card should give your contacts an idea who you are and how to get in touch with you.
I love your comments! Do you have a business card? What do you do with business cards given to you by someone else?