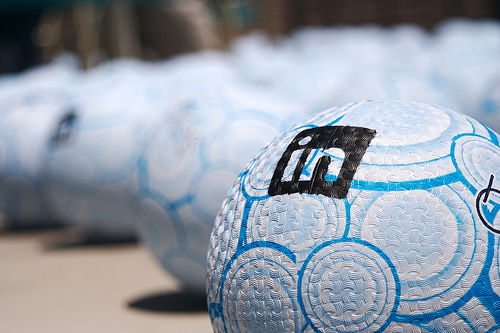 Are you In? LinkedIn is a great networking tool and powerful career resource, and many professionals and bloggers aren't using LinkedIn to it's full potential.
Maybe you're perfectly happy exactly where you are in your career or with your current blog activity. If you are, good for you! Work-life balance and career satisfaction are not measured by job title, page rank or status. Then again, very few of us find happiness and success standing still. If you want to grow your blog or your career, LinkedIn can be a great resource!
Here are 6 ways LinkedIn has empowered my professional development:
1. Reconnect with old contacts.
Did you cringe when your old high school nemesis friended you on Facebook? LinkedIn can be used to reconnect with former professional contacts that are far less cringe-worthy.
I have used LinkedIn to reconnect with former classmates & teachers, co-workers & supervisors, and business partners. I've found valuable contacts I lost track of, and I can maintain my professional network as colleagues and classmates move, change jobs, phone numbers and email addresses.
2. Get personal recommendations.
Ask for personal recommendations from your network for job opportunities, promotions, business opportunities and more.
When I was job hunting, my LinkedIn network provided the opportunity to request a personal referral to a company I wanted to work. After an interview with a great company, I found my interviewer on LinkedIn and discovered we shared a connection. I contacted our shared connection, a former service provider, and he was glad to contact my interviewer to provide a personal recommendation on my behalf.
3. Build credibility around your expertise.
If you want to be known as an expert in your field, LinkedIn Answers can help you build your reputation.
LinkedIn Answers shaped my blog niche. When you answer questions on LinkedIn Answers, the questioner can rate one answer as the "best answer". I was repeatedly rated "best answer" on the topics of work-life balance, career management, and related topics and thus my niche was born!
4. Find your audience.
Use LinkedIn Answers to gain insight into your professional industry and to stay informed and knowledgeable on your career path.
LinkedIn Answers helps me tune into my audience. I have written several blog entries based on questions other professionals are asking on LinkedIn.
5. Learn from the experts.
Asking questions on LinkedIn Answers allows you tap into a huge network of experts.
When I wanted to create business networking cards, experts from LinkedIn responded to my question and I was able to create a killer networking card that have consistently impressed at networking events.
Don't forget to rate the "Best Answer" when your question closes.
6. Interact with your professional peers.
LinkedIn Groups provides a venue for valuable discussion and information sharing on your professional interests.
LinkedIn Groups provided tips, tricks and support when I started my blog. I'm a member of The Blog Zone group on LinkedIn and I participated in discussions for months before and during the creation of my blog.
There's a lot of great information being shared on LinkedIn Groups!
Where to get started on LinkedIn:
If you're not already on LinkedIn, or signed up ages ago and don't know what to do next, please check out these awesome videos from my good friend, Adrienne Smith at adriennesmith.net!
How To Make Your Links Stand Out On LinkedIn.
I love your comments! How are or aren't you using LinkedIn? Did you learn something new from this post?
Image courtesy of Jerry Luk