Isn't it time to take a break, already? Trust me, it really is.
At least for me. I'm a huge advocate for taking breaks. I know well from past experiences that when I take regular breaks I get more done. I'm more creative, more innovative, more productive, and more efficient! I need brain breaks to refresh, recharge, and be my best.
Despite having learned taking breaks is a really good thing sometimes I try a mind over matter approach wherein I convince myself I can't take a break yet (I'll take a break as soon as I finish this and that and this and that), or that I simply have too much to do (I have no time for breaks), or worse yet, that if Bob/Betty/Joe/Mary don't need a break then I don't either (Anything you can do I can do better)!
Yeah….. riiiight.
Sometimes here I find myself, thinking I don't really need breaks. I'm important! I have important stuff to do! I don't need no stinkin' breaks!
Yeah….. riiiight.
This is exactly where I found myself this past week. You see, I've been sick for over a week- well enough to put in at least a few hours of work while sick enough getting actual work done was a challenge. The first part of the week I attempted to push myself to get through my to-do list but actually completing those tasks was nearly impossible. I sat there "working", trying to force my body and mind to perform small, simple tasks that due to illness it was not able to do. The longer I sat there the harder it was to get anything done. Clearly my efforts to push through the work despite my physical condition were not effective.
Midway through the week I decided to try a different approach. I wrote the following reminder on a sticky note: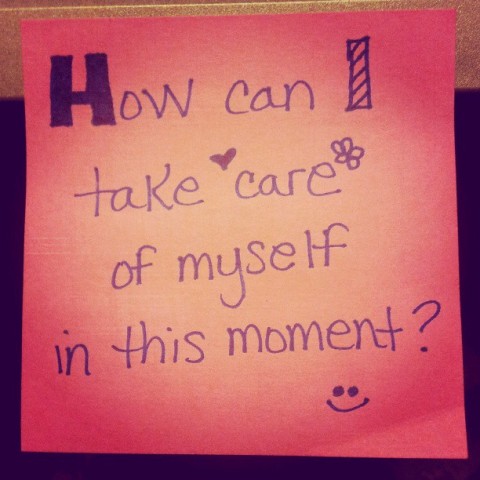 If I felt fuzzy-headed and unable to focus I took a break, even if I'd only been working 45 minutes. I gave myself permission to take even 5 minutes to close my eyes and relax. You might be thinking taking a 5 minute break every 45 minutes or so wasn't very productive but the opposite is true, I actually got more work done taking a break every time I needed it than I managed to get done trying to push myself to keep working when I wasn't up for it.
Breaks don't only have to happen in the middle of work. Yesterday morning I made the very wise choice to give myself a break and sleep in a little or, you know, a lot. After all, I'm still sick! I went to work 2 hours later than usual and guess what- today was my most productive day yet!
Alright, self, lesson learned all over again. Breaks are good! Breaks are non-negotiable! Taking care of my health is the best thing I can do for my personal and professional success! Just take a break, already!

I love your comments! Do you take a break when you need it? Do you often give yourself a break? If not, what's holding you back?