Some days I need a happiness boost! You know, just a little pick me up that carries me through a difficult day. Although I cultivate habits of happiness there are still times I find myself in a funk and need to snap out of it!
Giving myself a happiness boost is about more than just feeling good- it's about making the most of each and every day. When I feel happy I am more effective and productive in every area of my life. I get more work done and may even have a little fun doing it!
People around me respond to my positive (or negative) mood and as a result they relate to me either positively or negatively.  My attitude determines what kind of day I'm going to have and what level of success I'll enjoy in my endeavors. Really, there's nothing but good stuff ahead when I can generate some happiness in my day!
A friend of mine recently found herself in a funk after several things didn't go her way. She was feeling frustrated and disappointed but instead of wallowing in her perceived misfortunes she reached out to her friends and asked what they do to boost happiness. I was so inspired by her idea I decided to do the same. I reached out to my friends and to my readers on my Facebook page for a little bit of inspiration and added some ideas of my own.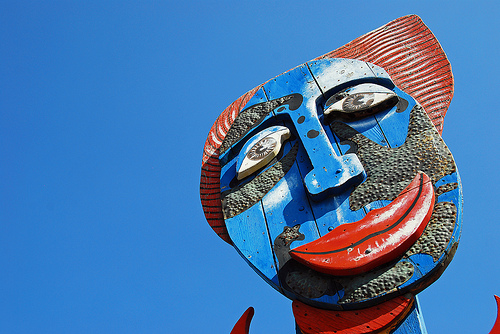 Image courtesy of madlyinlovewithlife
25 Ways to Get a Happiness Boost
01. Smile.
Smile for no reason. Smile at strangers. Smiling is scientifically proven to make you happier.
02. Move.
Dawn B. suggests you get moving. Exercise! Move around- dance, walk, run! It's all good.
03. Be Grateful
Write a list (on paper or in your heart) of everything you're grateful for right this moment. Focusing on the good stuff makes me feel happier whatever else may be going on.
04. Take a break.
When I take breaks I get more done. I feel happier and lighter.
05. Say "thank you".
Say thank you to someone in your life and you'll feel happier. It could be a co-worker, a friend, a family member or a stranger.
06. Get into the groove.
I didn't just quote a Madonna song. Okay, I did, but music is a powerful and simple way to influence your mood. Put on some tunes that move you and let the happiness flow!
Rebecca W. suggests They Might Be Giants as a mood lifter. I do love me some They Might Be Giants. Their music is upbeat, a little silly, and always fun.
Here's a video from They Might Be Giants that's guaranteed to make you smile!

 07. Experience live music.
And while we're on the topic of music, seeing live music is another wonderful way to get a happiness boost. As suggested by Megan S. and I couldn't agree more. There's a unique energy at live shows that ups the mood boosting experience!
08. Meet a friend.
Get together with a friend over a cup of coffee, lunch, drinks, or dinner. We're all busy and sometimes we have to make that extra effort to meetup with a friend and it's worth it!
09. Rock a killer outfit.
This suggestion is not just for the girls- doesn't everyone feel great when wearing clothes that look and feel great? Your wardrobe affects not only your attitude but the attitude of people around you. Whatever your style- comfortable, conservative, fashionable- wear clothes that compliment you.
For me it's usually a comfortable yet stylish outfit in bright colors with jewelry that sparkles. Not only do I feel great but people around me often smile and remark on how "happy" I dress.
10. Relax.
Ashley C. suggested taking a hot bath with essential oils and I can attest to getting a big happiness boost from relaxing in a hot bath. Maybe you prefer a hot shower but either way there's something truly refreshing about letting all your worries wash away.
11. Practice random acts of kindness.
Another great suggestion from Ashley C. is to do something nice for someone else without asking for recognition. When I do something nice for someone else I really do feel great. No matter how big or how small, just be kind.
12. Act as if.
When I act happy I start to feel happy, all I have to do is act as if, or fake it til ya make it, as some may say.
13. Get creative.
Expressing myself creatively is a guaranteed happiness booster. Some of my favorite creative activities include writing, coloring (yes, in a coloring book with crayons!), crafting, doodling, and painting. My husband, Corey, enjoys rocking out on his drums. Just be creative in whatever way moves you!
14. Belt it out!
Did you know singing releases endorphins that make you feel happy? It's true! Sue P. suggested singing, even if you don't do it well, to feel a little happier and I agree! Sing in a group, in public, or alone- you can't do it wrong.
15. Go to your favorite place.
We all have a favorite place, don't we? Mine is snuggling up on the sofa with my cats and dogs. Whether I'm reading a book, watching a movie, or just enjoying a quiet moment, I always feel happy in my favorite place.
16. Pet your pet!
Jane S. said she is happy when she sits down and pets her cat, Ruphous. Jane, I absolutely agree! In fact, petting animals is proven to release serotonin, a hormone that directly affects happiness.
17. Hug your pet.
And while we're on the subject of animals, they're good for hugging, too. (Though in my experience my dogs enjoy being hugged more than my cats.)
Ariadne N. hugs her dog, as much as long as needed, whenever she needs a lift.
18. Play a game.
Whether it's a boardgame, sudoku, or Words With Friends (my favorite!), playing a game and challenging your mind provides a happiness boost.
19. Enjoy the outdoors!
Walk, run, hike, bike, climb, or ski- enjoy the great outdoors! Okay, so I'm from Colorado and maybe hiking, biking, and climbing aren't popular activities in your area. Other outdoor activities include picnicking at the park, swimming at the lake, or digging your toes in the sand at the beach!
20. Prepare a healthy and delicious meal.
My husband, Corey, suggested cooking a healthy and delicious meal and I must say it does make me happy when he cooks a healthy and delicious meal for me! It's equally satisfying to prepare a meal for myself, especially when I eat mindfully and fully enjoy each and every savory bite.
21. Get stuff done!
Oftentimes I have items on my to-do list that I don't really want to do, but I feel great when I get them done. So on that note I'm going to suggest checking at least one item off your to-do list every day.
22. Ask for help!
Sometimes when I'm really in a funk I'll ask my friends on Facebook to share happy things with me. My friends may share a positive experience, an inspirational message, or a funny video or website. With so much happiness being shared it's impossible not to be happy myself!
23. Share happiness with others!
The things you share with others are reflected back to you so share good things and you'll get good things back. Share your happiness and you'll feel even happier.
24. Let it go.
Let go of thoughts, worries, judgements and expectations that are dragging you down. Letting go isn't always easy, and you may have to do it more than once. Letting go of unhappy thoughts gives your happy thoughts room to grow!
I have several ways of letting go. Sometimes I imagine filling a balloon with my negative (or "nag"ative!) thoughts and imagine releasing the balloon into the sky and watching it lift up to the clouds until it disappears. Sometimes I write my negative thoughts down on paper and put the paper in a safe place or simply throw it away.
25. Whatever you do, enjoy it!
It's far too easy to go from experience to experience and forget to simply enjoy it. I get a boost of happiness by being in the moment and experiencing life to the fullest.
It's easy to enjoy the really fun stuff, but how about the more mundane? Driving in the car provides a wonderful opportunity to listen to a book on tape, listen to music, or enjoy the quiet. Waiting in line provides an opportunity to take a deep breath and roll my shoulders back.
I love your comments! What is one sure-fire way you boost your happiness?