Self motivation is a powerful practice of happy and successful people. No matter what your goal, motivating yourself to progress is the key to living a satisfying and purposeful life.
My goal is, simply, to live my best life! To be healthy, happy, and love life. Of course doing so is easier said than done. To live a great life I must be motivated to make daily choices that support my goals every day. Not only do I have to make the choice to take action, I have to take it.
Some days I wake feeling energized and motivated, and other days it's easier to take the path of least resistance, which is usually not the path to greatness. Even when pursuit of my goals means enjoying a relaxing day, it's often tempting to get sucked into some mindless activity (Facebook, anyone?) that I don't necessarily enjoy, it's just a way to pass the time. (Just me, then? Oh, you too?)
Another example of living my best life involves working on my blog. I love blogging, and yet some days I spend my writing day doing nothing of consequence with little to show for it.
If I want to live my best life I must first be motivated to do so! When my motivation doesn't not come naturally, I can practice self-motivation to align my behavior with my intentions.
So how do I motivate myself when I'm feeling distracted, bored, and avoidy? Here's how!
Picture your goal
A great way to motivate myself is to picture my goal in my mind. A vision board helps me visualize my goal regularly and focus on the life I really want to live. When considering how I want to spend my day I look at my vision board and ask myself, "does this belong in my vision?" When a behavior or action aligns with my goals, I feel a rush of motivation!
Get inspired
I keep a Pinterest board of inspiring quotes and messages. I share favorite quotes on Twitter and Facebook. I stick inspiring thoughts on notes around my home and office. I read inspiring blogs. I surround myself with inspiration to keep me inspired.
Take care of you
Often when I'm feeling unmotivated it's because I'm hungry, angry, lonely, or tired. I recognized these cues it's time to HALT and take care of me. I can eat a healthy snack or enjoy a small indulgent treat! I can journal or talk out a problem I'm holding on to or just let it go. I can spend time with family or friends. I can take a nap or get to bed early. Taking care of my basic needs comes before happiness.
Take one step at a time
Sometimes I feel unmotivated because the task in front of me seems too daunting and it feels as if I'll never get it done! (That's never happened to you, right?) When I feel overwhelmed I can focus on doing one thing at a time. Instead of fretting about the end result, I focus on the task at hand. I ask myself, "what's the next step?" and tackle just that step until it's time to take on the step after that.
Be present
A great way to waste time is to spend it doing something that isn't meaningful or valuable to me. Every moment of my life doesn't have to be filled with activity, but when I'm not enjoying whatever I'm doing- even if I'm doing nothing- then my life doesn't feel very great. (This is absolutely the point I step away from the computer when I'm mindlessly internet trolling.) Being present in this moment, enjoying and engaging myself in whatever I do, is a great way to get motivated to do what I really want to do.
Be awesome!
When I accept responsibility for the awesomeness of my life and creating more awesome, I find motivation I didn't know I had! Yeah! Come on, awesome life! Today I'm going to be awesome!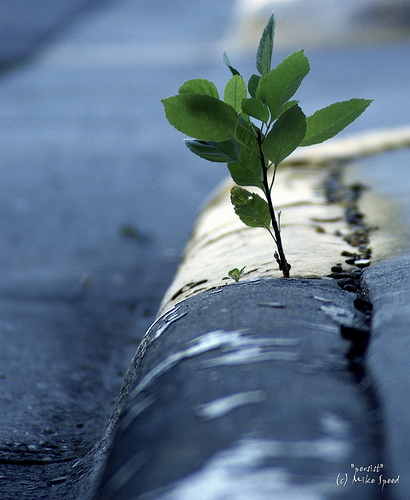 Image courtesy of Mike Speed.
I love your comments! How do you self-motivate? Which, if any, of my tips are you going to try?