Are you as happy as you could be? Are you as happy as you want to be? I'm here to spark a little extra happiness in your life every day for the next 30 days.
Choosing to be Happy
I've said it before and I'll say it again, happiness is an inside job. Sometimes happiness comes easy and sometimes not so much. It's easy to feel happy when life goes your way but what about when things aren't they way you want them to be. Are you waiting for life to get good to be happy? Just stop that right now! Stop waiting for happiness and make a choice to be happy today.
Happiness is a daily practice. Sometimes happiness is even a little work, but like most things the more we do them, the easier they become.
I became happier in life by choosing happiness each day, and every time I made that choice I found happiness came easier to me- I felt happier without even thinking about it!
What does it mean to choose happiness, really?  It starts with letting happiness in. Are you open to the small moments of joy around you? Do you make a mental note of the many beautiful, inspiring, and amazing things you encounter every day? I encourage you to open your senses to the good things in your world. What do you see, touch, smell, hear? What do you feel? Make note of all the little things that you enjoy. You start by choosing to be happy.
"Most folks are about as happy as they make up their minds to be." ~Abraham Lincoln
The Happiness Challenge
Making a choice to be happy doesn't always result in immediate happiness, does it? To celebrate my 100th post on Live Love Work I have a happiness challenge for you! I hope you'll join me in choosing happiness for the next 30 days. Here's how it works:
Every day make note of something in your life that brings you happiness corresponding to the theme for that day.
This can be a photo challenge or a writing challenge. Snap a picture of your happiness or write a few words about it. However you choose to participate I do hope you'll share your happiness! I'll be sharing my happiness on Facebook and Twitter with the tag #liveworkhappy . I'll get us started: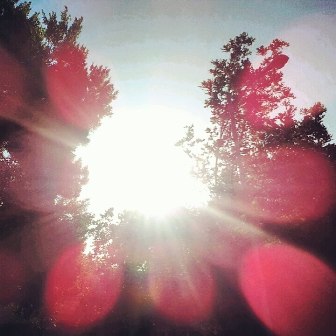 Day 01.   SUNSHINE
30 Days of Happy
Day 01.   SUNSHINE
Day 02.   NATURE
Day 03.   ACTIVITY
Day 04.   REST
Day 05.   SELF-CARE
Day 06.   FRIENDSHIP
Day 07.   LOVE
Day 08.   TECHNOLOGY
Day 09.   MEMORIES
Day 10.   RED
Day 11.   ORANGE
Day 12.   YELLOW
Day 13.   GREEN
Day 14.   BLUE
Day 15.  PURPLE
Day 16.  CELEBRATION
Day 17.   MUSIC
Day 18.   BOOKS
Day 19.   GOALS
Day 20.   ACCOMPLISHMENTS
Day 21.   LEARNING
Day 22.   WORK
Day 23.   PLAY
Day 24.   KEEP IT SIMPLE
Day 25.   LAUGHTER
Day 26.   BALANCE
Day 27.   HEALTH
Day 28.   PROGRESS
Day 29.   ATTITUDE
Day 30.   CHOICE
I love your comments! Will you be joining me for this happiness challenge? Please challenge someone you know to be happier, too!