Positive thinking can be a powerful tool to balance overwhelming negative thoughts and associated feelings of hopelessness. Negative experiences can stick with you, and sometimes seem to hang on far too long. Intentional positive thinking can be used to counteract lingering memory of hurt, disappointment and frustration so you can move forward with a centered, healthy and open perspective.
Positive thinking can be especially beneficial in the workplace, where negativity and low employee morale are on the rise. You face many challenges at work, and a negative outlook can make your situation appear even more grim.
Positive employees are more productive, and more likely to be recognized and appreciated by co-workers and managers. Optimistic workers also have a greater ability to focus on solutions.
If you want to embrace a healthier, happier and peaceful life check out these awesome articles on positive thinking!
Tiny Buddha: 4 Simple Mantras To Help You Stay Positive and Happy I really enjoyed these beautiful statements to gain perspective and find happiness in each day.
Wisdom a la carte: Resourcesful Thinking Vs Positive Thinking An interesting re-framing of positive thinking and how it differs from denial and ignorance.
Freckled Brilliance: What's Better Than Positive Thinking? A tongue-in-cheek look at the cringe-worthy reputation of positive thinking.
The Daily Love: Don't Deny the Negative- Understand It A powerful perspective on the importance of embracing the lessons of negative thinking.
Live Love Work: Stop Negative Thoughts, Encourage Positive Thinking Check out my tips on breaking the habit of negative thinking and welcoming more positivity in your life.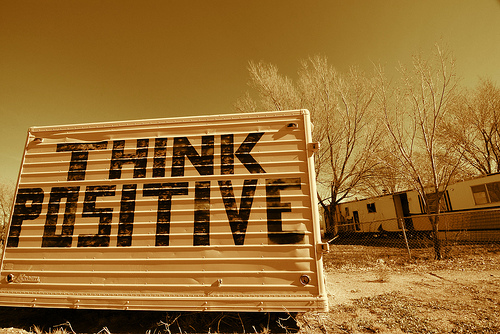 I love your comments! Do you practice positive thinking? Does positive thinking work for you? Why, or why not?
Image courtesy of Wavy1