Growing up I was taught to be agreeable and that "no" is a bad word. The truth is, all I got out of being overly agreeable and avoiding saying "no" was unhappiness and stress. Since I did not want a life of unhappiness and stress, I learned to stand up for myself, set and follow through on appropriate boundaries, and say "no".
Some of the disadvantages to saying "yes" too often include:
• Wasted time and energy on unimportant requests
• Valuing someone else's time over your own
• Increased requests for your time and efforts
• Missed deadlines
• Decreased quality of work
• Taking responsibility for others
• Helping others avoid appropriate and fair consequences of their behavior
• Lost focus, confidence and creativity
• Setting aside your well-being
• Sacrificing your health and happiness
• Feeling overwhelmed, resentful, frustrated and worn-out
The disadvantages of being overly agreeable are not pretty, and they are certainly do not promote healthy living!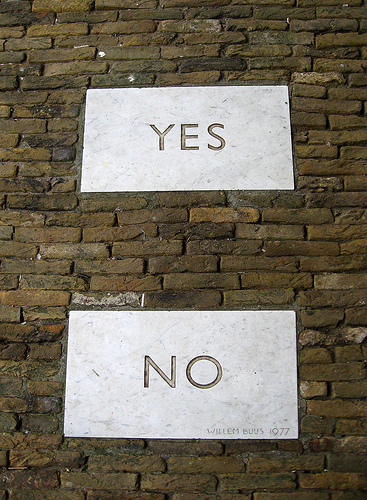 The advantages of saying "no" when appropriate are many! Here's how you can improve your life by saying "no":
• More time and energy pursuing your goals
• Better time management
• Spending time on what what's important to you
• Respecting yourself
• Earning the respect of others
• Becoming more reliable and trustworthy
• Being realistic about what you can and can't do
• Increased credibility
• Showing confidence in other people's strengths, skills & talents
• Believing in someone else's ability to handle difficult situations
• Giving others room to take chances and grow
• Giving yourself more opportunities to learn and grow
• Being better positioned to help others when truly necessary and advantageous to everyone
• Boosting creativity and innovation
• Taking care of yourself
• Feeling balanced, confident, focused and strong
The word "no" is not a bad word. Like most things, "no" is healthy when used appropriately and for the right reasons. Saying "no" can drastically improve your personal life and your professional standing.
If you're stuck, here are some tips on how to say "no".
I love your comments! Do you find it difficult to say "no"? What have you gained by saying "no" in your life?
Image courtesy of photosan0