Scientific studies have shown that negative experiences have a greater affect on our well-being than positive experiences. These studies reflect the importance of nurturing and promoting positive experiences in life to enjoy a life of good health, happiness and success.
No one has a perfect life and true happiness is not the result of your external experience being positive, but instead a positive internal experience. To be healthy, happy and achieve your dreams you've got to feel good about your imperfect life, and the way I do this is by practicing an attitude of gratitude.
Gratitude is essential to a great life, and there's always something to be grateful for. A regular practice of gratitude does not mean I don't have any struggles or challenges because, trust me, I do! It does mean I actively seek out what is going well, what's working, and I focus my energy on the good stuff.
This practice of focusing on the good helps me keep my life in balance. Without an abundance of gratitude, life will inevitably get me down and that's not the way I choose to experience my life.
Gratitude is so important to me, I look to be inspired in gratitude whenever I can. I hope you enjoy these awesome links on gratitude as much as I do.
Seattle Pi: The key to wellness? It's gratitude, one doctor says. A look at the link between gratitude and health.
Tiny Buddha: 60 Things to be grateful for in life. Use this handy little list to get you started.
Kind Over Matter: Gratitude unlocks the fullness of life A sweet and simple sentiment to inspire gratitude.
Janet Callaway: 13 quotes on gratitude I loved these beautiful quotes on gratitude!
Motherhood Your Way: Printable gratitude journal to count your blessings Enjoy this fun and creative way to express and share your gratitude.
Live Love Work: Get gratitude: 3 simple steps for living I hope you enjoy my take on a practice of gratitude.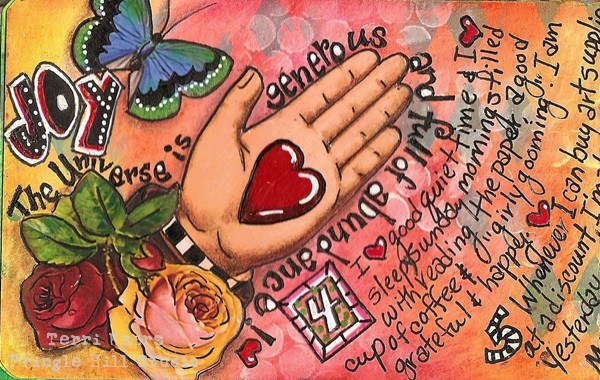 Pringle Hill Studio: Gratitude journal pages Check out more of the lovely gratitude in art by Pringle Hill Studio! Gorgeous!
I love your comments! Share your regular practice of gratitude, or simply share 5 things you're grateful for today.