Do you spend your time doing things you love? Do you usually get done everything you really need to do? Time management is a struggle for us on in this ever-connected, 24 hour world.
I thrive on maintaining a busy life. I enjoy being active, challenging myself, and living a full and happy life! Working full time, blogging, holding a volunteer position, being an active Toastmaster, and being part of a loving family takes a lot of effective time management.
I'm not busy just to stay busy, and I enjoy plenty of downtime in addition to all my activities. I wouldn't exactly call myself a time management ninja, but I do well enough balancing rest and activity and doing most of the things I want to do.
Time management isn't about how much time I have, but how I use the time I have. By making the most of my time, I get more out of life! Since I want you to enjoy an awesome life, too, I'm going to share some of my top time management tips. Are you ready?
7 Tips For Effective Time Management
Image courtesy of vpickering
1. Take care of you!
Self-care is so important, which is why you may have read one or two (or three) posts about it on this blog. When I take care of myself, and put myself first, I enjoy better health, more energy, improved concentration and focus, and I get a lot more done!
When I'm not taking care of myself I tend to get irritable and frustrated, do less of what I want and spend more time doing it. That's no fun so I'm going to keep up with my self-care and enjoy the awesomeness that inevitably follows.
2. Take more breaks.
Yeah, you read that right. If you want to make the best use of your time, take more breaks! Not only is taking breaks an excellent way to practice self-care, it's also a great way to improve problem-solving, inspire innovation, and refocus your brain power.
I have my work calendar set up to remind me to take breaks every work day. Taking regular breaks keeps my mind sharp and I manage my time more effectively.
3. Create routines.
I have lots of routines for everything from getting ready in the morning to organizing my to-do list. Creating a routine allows me to perform routine tasks quickly and efficiently, spending less time on the day-to-day and more time doing what I really want to do.
Routines work because I'm less likely to forget something or underestimate how long it will take me to complete a task. I can plan my day better- it's as simple as that!
4. Group like tasks.
Okay, here's where I'm going to share a small piece of wisdom from 18+ years in Accounting- batch processing improves speed and accuracy. Batch processing is grouping like tasks. For example, I might spend 15 minutes every few hours reading and replying to emails instead of reading and answering each email as it comes in. Or I might run several errands back-to-back instead of going back and forth from home to business to home to business and back again.
Grouping like tasks allows me to quickly knock out similar activities and conserve both mental and physical energy expended. It really works!
5. Say no.
Sometimes I just gotta say no, and that's okay! Saying no is a good thing! Saying no tells others I'm honest and reliable, and I will follow through on my commitments. When I am truly unwilling or unable to take on a request, I can say no with respect for myself and others and follow through on all my current commitments without overloading myself. 'nuff said.
6. Organize clutter.
Okay, so not everyone is a neat freak like me, but I've read a whole lot of studies that show keeping clutter to a minimum improves productivity. It makes sense, doesn't it? It's easier to stay focused on the task at hand and find what you're looking for when your physical space is distraction-free. Keep clutter to a minimum to better manage your time.
7. Simplify your digital life.
While we're on the topic of clutter, that goes for not only your physical space, but your digital space as well. How many hours have you wasted mindlessly surfing the web or reading and deleting marketing emails? If you're anything like me your digital life can get quickly out of control! Isn't it time to simplify your digital life?
Lucky for you I've got some ideas on simplifying your digital life and spending your time on the stuff that matters instead of the stuff that doesn't.
I love your comments! What other time management tips can you share? What's your biggest obstacle to managing your time?
Join the Conversation
Have you dreamed of quitting your job and risking it all in pursuit of your dream career? I encourage every one of you to pursue passion and purpose in your career without buying into the idea that your life will be great when… when you get a promotion, when you get a raise, when you finally have the career you've always wanted.
Your happiness at work isn't a result of an ideal work situation, it's the result of your mindset and attitude. Choose to be happy and create love in your work-life today.
You can get the most of the career you have now and find contentment and happiness in your work-life. Dare to dream and explore, just not at the expense of your present joy.
You can love your work-life through active participation and engagement. Here are some tips to love the work-life you have:
Take advantage of training opportunities.
Find out what training opportunities your employer offers and take advantage of them. Does your employer offer tuition reimbursement? What about internal training programs? Does your company sponsor membership in professional associations?
Training opportunities engage you in learning and loving your career. They build confidence and increase commitment.
Find a mentor.
If you know someone that has what you seek in your own career, ask them to mentor you. A mentor works with you one-on-one in your career development, sharing knowledge and resources and supporting you in your career goals.
Mentor others.
Sharing your experience and career success with a protégé builds leadership skills, and allows you to gain perspective through the eyes of your protégé.
Mentoring others can help you track your career progress and build your confidence.
Do your best work.
If you're not passionate about your job it can be easy to check out, doing only the minimal amount of effort to get the job done.
Challenge yourself to do your best work every day. You'll feel a sense of accomplishment and satisfaction and you're efforts will likely gain notice of people who can help you achieve your goals.
Track your accomplishments.
Keeping track of your professional accomplishments will help you recognize your strengths, as well as increasing your confidence in your abilities.
As an added bonus, you can leverage your accomplishments in your performance review and during salary and job negotiations.
Volunteer for special projects and assignments.
Build your skills by volunteering for special projects and assignments.
You will feel more engaged in your job if you have challenge and variety in your work, and you'll have the opportunity to exercise problem solving techniques.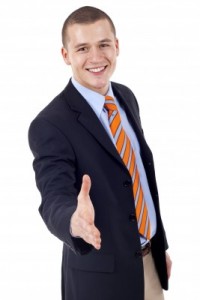 Develop relationships.
Build positive, friendly relationships with your co-workers. Not only are your co-workers part of your professional network, having a friend at work will help you reduce stress and provide opportunity to have fun at work.
Participate.
Participating in committees, groups and teams will increase your engagement at work. You will have a voice, learn how the company works, and raise your visibility.
Be positive.
A positive attitude goes a long way, especially in the workplace. Your co-workers will be drawn to your positive attitude and you'll soon find you enjoy being at work.
Be proactive.
Seek out solutions to problems without being asked and show initiative!
Try something new.
Learn a new aspect of your current job, or apply a skill in a new way. Be innovative and creative!
Do work at work, and leave it there.
Focus on work when you're in the office, and don't take your work home with you. Work-life balance goes a long way to increasing your satisfaction with your job.
Dress appropriately for your work environment.
We all like to be comfortable, and dressing comfortably and appropriately for your work environment can help separate work and play. Maintaining a professional persona at work is important in balancing your work and life.
Use your talents and skills.
Find ways to use your talents and skills in your current job. Not only will you keep your skills up-to-date, you'll enjoy your work more.
Cross-train.
Like taking on a special project, cross-training is a great opportunity to gain new experience and add variety to your work day.
Be helpful.
Helping others strengthens your connection to your network, and can help build credibility and a positive reputation at work.
Being engaged in your work will improve your work experience. Every one of these tips will also help you transition into a career of your dreams where you can love what you do and do what you love.
I love your comments! I invite you to pick 2 of these tips to implement in your work-life. Which 2 will you try?

Photo Credit: Copyright (c) 123RF Stock Photos
Join the Conversation
Creating an organized workspace is about more than just organization- you can create a space that inspires, engages and energizes you in the work you do every day.
Do you want a workspace that boosts your mood, productivity and creativity? Organizing your workspace can improve the quality of your work-life and add a little fun to your work day. Here are 8 tips for organization and inspiration!
1. Get rid of anything that doesn't work for you.
If an item in your workspace isn't working for you, get rid of it.
Do you have pens that don't work and pencils that are unsharpened? Do you like the feel, color and point of your pens? Is your pen cup big enough for your favorite writing utencils? Does your stapler function smoothly and is the fit comfortable in your hand?
Trying to work with an item that isn't working for you is draining your energy and minimizing your efficiency. Ask yourself if the items on and around your desk are working for you. Give away, recycle or trash unwanted items that are adding clutter and fuss to your workday.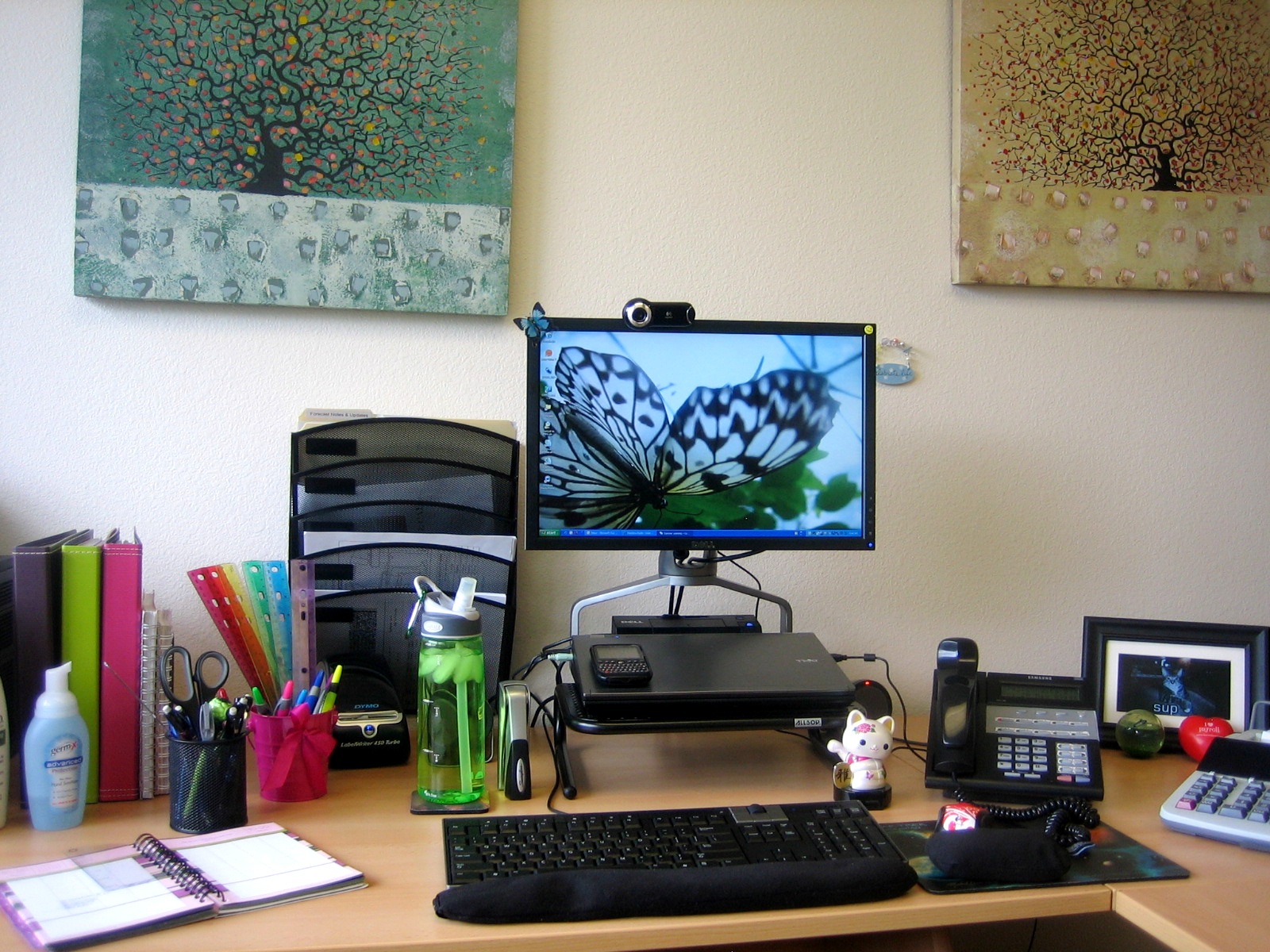 2. Invest in the right tools.
Shop around for desk organizers, file organizers and other items that will suit your individual needs.
If you don't have desk drawers, you may need a desktop organizer with drawers or divided cups to separate the supplies you use regularly. Make it easy to reach for and find the things you need without rooting around or sorting through miscellaneous supplies thrown together in a drawer or box.
Consider wall files and incline desktop sorters that store files and papers vertically instead of desk trays which stack papers on top of each other. Use printable file folder labels and stagger the tabs so you can quickly and easily find the file you're looking for.
Don't underestimate the value of adjustable monitor stands that not only raise your monitor to eye level, but can also free up desk space for supply storage.
Invest in the tools you need; it's worth spending a little extra to get something that is going to make your work-life easier every day.
3. Keep what you need close at hand.
Keep files and supplies you use daily within easy reach. Remove any items from your immediate reach that you don't use regularly to declutter and clear your space for productive work.
Keeping the items you use often in reach may require investing in the right organizational tools so you can have paperclips, tape, or whatever supplies you use regularly at your fingertips. Don't put something in a drawer that you have to use over and over each day- keep it on your desk where you can grab it without changing your position.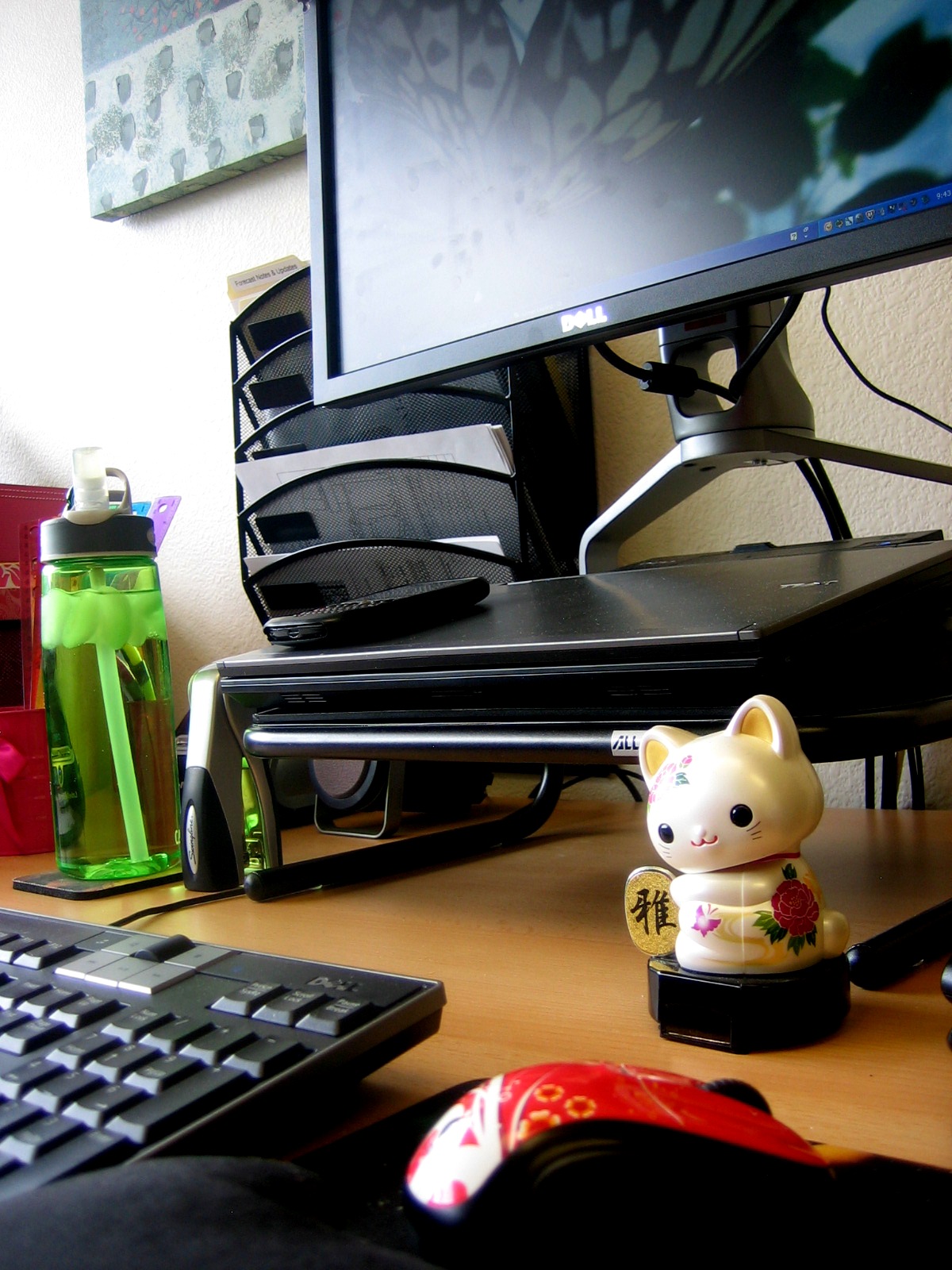 4. Create a reference binder.
Use a 3-ring binder to keep reference materials organized and easily accessed.
My reference binder has a one-page-per year calendar with holidays and closures circled in red, a phone list, an account list, key policies and procedures, a list of desk stretches, tips for minimizing stress, and a whole lot more!
Think about the information you need to reference often and information that is important to easily access when you're under a deadline, on the phone, or under stress and include it in your reference binder.
Consider slipping your reference papers into plastic page covers so you can put view them back-to-back and handle them frequently without tearing or soiling the pages.
5. Make it ergonomic!
Raise your monitor to eye level. Use wrist rests for your keyboard and mouse. Adjust your chair height or invest in a footrest. Take care of your body and it will take care of you! You'll feel better and experience less mental stress if your body isn't stressed all day long.
6. Use color!
Color-coding your files can help you quickly and easily find the documents you're looking for and help you return items to the appropriate file so you always know where to find it next time.
In addition to color-coding, using color in your organization and decoration can boost your mood. Choose colors that calm and soothe you, like blues and greens, or choose colors that excite and energize you, like reds and pinks.
Color can add style and personality to your workspace in addition to organization and help you create a space you love.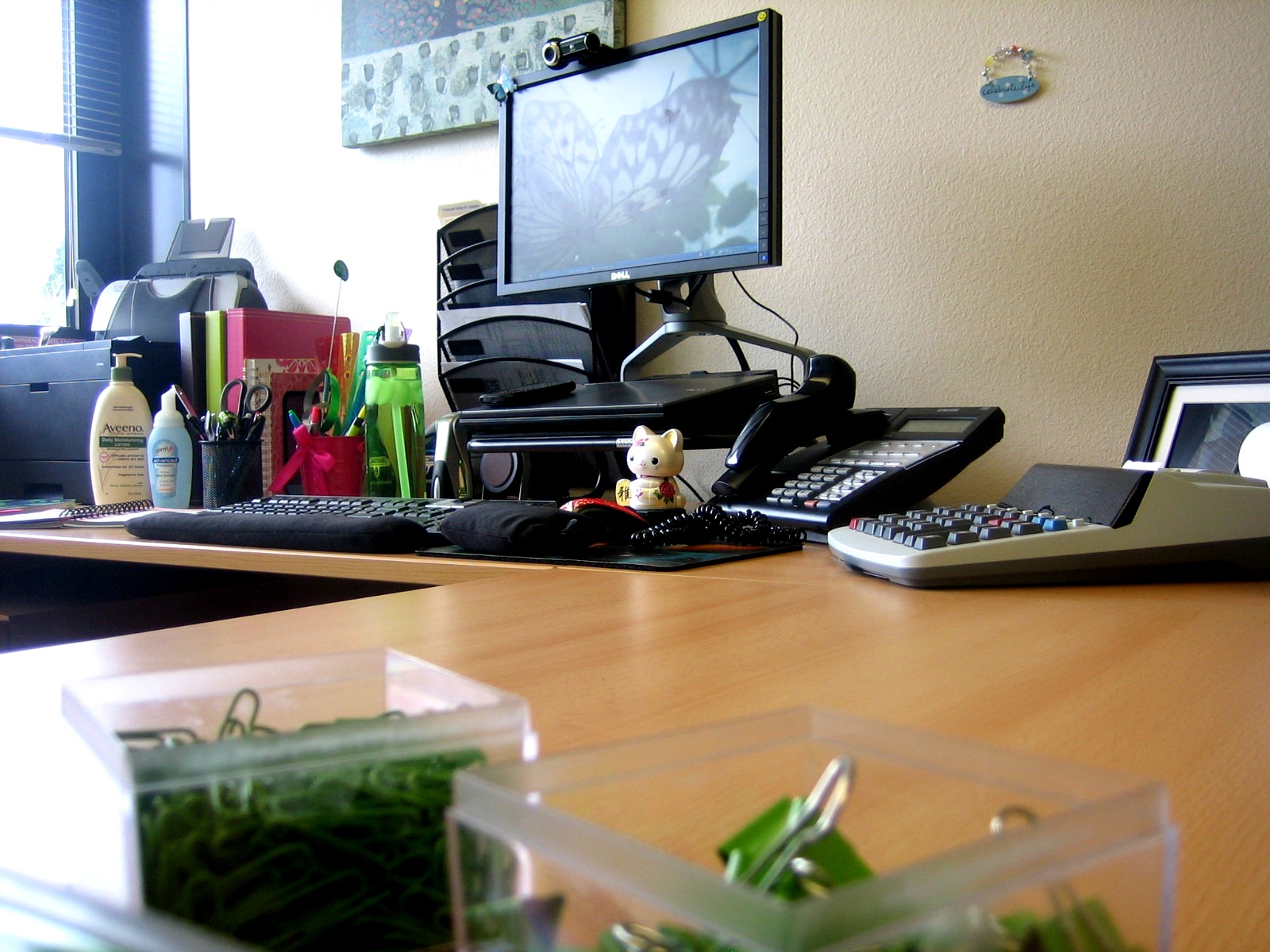 7. Show your style.
In addition to color, use textures, artwork and designs that inspire and engage you.
Make your workspace personalized not only with personal photos, consider adding personality with your office decoration. Display art on your walls, and use artistic office supplies that come in a variety of colors, styles and designs. You can find a designer mouse, notebooks, file folders and so much more!
8. Have fun with a digital photo frame.
Use a digital photo frame to display photos, quotes and images that make you laugh, make you smile and fill you with happiness. A digital photo frame allows you to easily add or change the images and doesn't clutter your desk or wall with multiple photos, frames and notes.
My digital photo frame has pictures of family and friends, vacation photos, and LOLcats!
Creating a workspace you love will encourage productivity, focus and increase happiness in the workplace. Don't just organize your workspace- let it inspire you! Think of ways your workspace can engage you and help you do your best work every day.
What do you love about your workspace? What organizational tips work for you?
Join the Conversation