As a Career Coach, I work with career professionals and entrepreneurs who are looking to level up. They are usually looking for work or looking to increase their income. There are lots of tools and support I use to work with clients to help them reach their goals.
There is one tip I give every client I work with.
That's right, one piece of advice that works for everyone in every situation! This advice works for everyone equally.
Now when I tell you what it is, you might think I'm crazy. You might protest, "but, Chrysta, what does this have to do with finding a job, getting a raise, getting clients?!"
So I hope you'll bear with me for a minute here because I promise you, it works. And it might not be what you think. I encourage you to be open to the tip I'm about to share.
Before I tell you, I want to share how it's worked in my life- very specifically the last two weeks.
A LOT has happened in the last two weeks. The floor drain backed up and partially flooded our basement. Then it was my husband's birthday party, followed by his birthday. A few days later I participated in a 2-day event I've been planning for 6 months. While I was out-of-town at the event, my cat went missing. That weekend I moved into my new office. The very next day our garage door opener broke. A few days after that we found my cat.
That's a lot to happen in two months, let alone two weeks. And through it all I stayed relatively balanced, centered, and ready to face the day. How did I do it? From this simple tip I have to share with you.
Are you ready?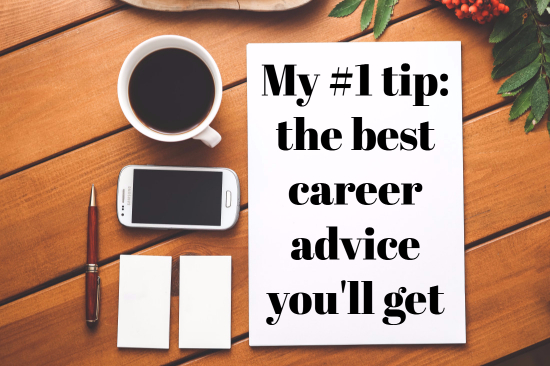 My best career tip is to start a regular gratitude practice. Write a daily gratitude list and I do mean write- put it down on paper. Take 60 seconds each day to pause, reflect, and be grateful.
Yep, that's it. Be grateful.
Still skeptical? Let me tell you why it works.
A regular gratitude practice gives you something positive and hopeful to hold onto no matter what happens in your day. In this way gratitude is an anchor to the good stuff in your life.
Gratitude tempers the highs and lows, the ups and downs. Gratitude helps you connect to the present, grounding you in good things you have right here, right now.
Gratitude also boosts your energy and mood, giving you an extra reserve of motivation, and helping you face challenges as they come.
I've heard lots of advice from successful entrepreneurs and gurus that suggest starting a variety of daily habits- from getting up early, to daily exercise, to meditation. It's true, all of these positive habits will help you be more successful. But what I like about starting a gratitude practice is it's so easy to do! The best thing about starting a gratitude practice is it takes very little time and everyone can do it. Gratitude will help you be more successful in all you do!
So, that's it. Start a regular gratitude practice. Write down a gratitude list every day. Notice the difference in your overall attitude, energy level, and ability to handle problems.
If you get discouraged, start a gratitude practice.
If you're feeling stressed, start a gratitude practice.
If your energy is low, start a gratitude practice.
If you're feeling great, start a gratitude practice.
It won't solve your problems but it will help you be prepared to solve them. Give it a try and see what happens!
If you find this advice helpful, sign up for my newsletter and get more tips, tricks, and positive motivation!