I have a love/hate relationship with goals. The idea behind goals is great but most people get it all wrong when it comes to creating goals. They set the wrong goals for the wrong reasons.
When you set the wrong goals for the wrong reasons, you're likely to feel discouraged and frustrated with yourself and your life. You'll never feel good enough.
I won't get started on ridiculous New Year's Resolutions. I unequivocally loathe New Year's Resolutions. Talk about not feeling good enough!
Okay, so maybe you're still with me here, and thank you for that. Let's look at the 5 biggest mistakes you're making creating your goals, and the good part, what you can do differently (and better!)
The 5 Biggest Mistakes You Make When Creating Goals
01. Your goals are rooted in shame
Don't set goals that focus on what you don't like about yourself. Sure, we've all got shortcomings and it's great to strive to be better today than yesterday, but if your goals are rooted in shame you're unlikely to ever be truly happy with yourself or your life.
You're a perfectly wonderful person just as you are. No, really, it's true. You're amazing! Own it, live it, love it. Love yourself! Set goals that help you feel great about yourself- not as you will be but just as you are.
02. Your goals compare yourself to others
Are your goals based in comparisons? Your path is your own, as are your skills, your talents, and your shortcomings. It's never fair to compare. Stop comparing yourself to others.
If you're going to compare yourself to anyone, let it be yourself. Be better than you were before. Recognize and celebrate your progress. Keep learning, keep growing, keep challenging yourself, just don't compare yourself to someone else.
03. You set goals you think will make you happy
If you think reaching your goals is going to make you happy, you're wrong. Happiness comes from within. If you're not happy today, you're not going to be happy tomorrow.
Discover and celebrate happiness in your life today. Stop trying to create happiness on the outside and create it on the inside!
04. You confuse your goals with your dreams
There's a difference between goals and dreams. Your dreams are those ideas that motivate and inspire you. Goals are specific behaviors and tasks that lead to accomplishment and growth. For example, your dream may be to travel the world, and your goal might be to take a trip to a place you've never been.
Let your dreams inspire your goals and set goals that you can accomplish.
05. Your goals are focused on results
How many times have you accomplished a goal only to realize that you didn't get what you really wanted out of the experience? What about those times you didn't meet your goal? When you focus too much on results, you set yourself up for disappointment.
Stop focusing on what you want to GET and focus on what you want to CREATE. There is likely more than one way to get it done- be open to learning as you go and finding new ways to create a life you love.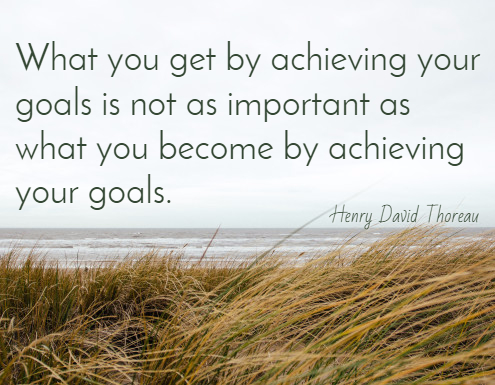 Which goal setting mistakes have you made in the past? What will you do differently in creating goals for the future? Now you're ready to create goals that support and enrich your life!