When it comes to solving life problems there's a simple concept I learned about years ago that helps me make mindful decisions. As simple as it is in theory, it can be challenging to apply it when I have so many years of practice making knee-jerk decisions or spending too much time over-thinking my options.
Fortunately, as with all things in life, I always have the choice to reassess my situation and make a different decision- even if I'm already headed down a path that's not working out so well for me, and I can apply these 3 steps to mindful problem solving.
3 Steps to Mindful Problem Solving
The 3 steps to mindful problem solving are awareness, acceptance, action. Easy, right? Or maybe you're thinking, " how does it work?"
01. Awareness
There are many different ways I become aware of a problem. Usually, however, I don't always realize there IS a problem at first. I struggle with an idea, a relationship, or situation for a while without realizing I've been caught up in the problem. I'm not really thinking objectively about it, I'm reacting to it in the moment. Am I the only one that does this? Maybe you realize there's a problem right away.
Once you become aware of the problem you can ask yourself this question to gain clarity about the problem.
"What isn't working?"
02. Acceptance
Acceptance is the hardest step for me because when I become aware of a problem my awareness of the problem is emotionally-charged. I'm angry, hurt, frustrated, confused, etc. If I try to jump from awareness to action, the 3rd step, then my action is often misinformed by my emotions.
What acceptance means to me is I am able to see the problem for what it really is, without my emotions and judgments altering what I see. I may acknowledge my emotions and judgments but recognize they are just some of the information I need to consider in solving the problem. I ask myself the following question.
"What's my truth?"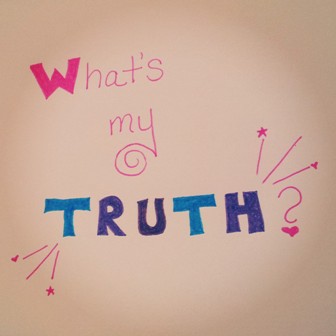 03. Action
Of the 3 steps action is the easiest for me because as soon as I've reached acceptance, I'm not making a knee-jerk or fear-based decision and I'm not afraid of what the outcome of my action will be. When I have awareness and acceptance I know I am making a thoughtful, honest, inspiring, necessary, and kind choice.
When it comes to action, I THINK.
"Is my action Thoughtful, Honest, Inspiring, Necessary, and Kind?"
The 3 A's in action!
When I started thinking about writing this post I really wanted to come up with an example to share. Even though I use these concepts, also called the 3 A's, regularly, I couldn't come up with an example. I started to get frustrated with myself and thought about writing something else and then it hit me. Why not apply the 3 A's to my current problem.
Awareness: I couldn't come up with a professional example that respected other people's stories. (I wouldn't want to discuss a business situation or relationship involving other people on the internet without careful consideration!)
Acceptance: I was frustrated with myself for not being able to think of an example to share with you and I had decided, without realizing it, that I this post wouldn't be as effective without an example so I just shouldn't write about it. Wow, talk about judgment!
Action: I decided to write the post anyway! Oh, and applying these steps to my problem actually gave me an example to use!
How many times have you found yourself struggling with some simple problem or decision that probably isn't that important but you struggle all the same? My example may or may not be one you can relate to but hopefully you can apply it to a situation in your life where you struggled over a problem, even if it wasn't a big one, and how you can be more mindful in your problem-solving approach!

I love your comments! Have you ever used the 3 A's to solve a problem? Do you think these 3 steps can help you be more thoughtful about approaching problems in your life?