The active pursuit of knowledge and experience, called lifelong learning, is a leading cause of happiness! Lifelong learning has many benefits including:
Creating opportunity
Discovering solutions
Building relationships
Connecting to community
Inspiring a better world
Developing a unique identity
Improving confidence
Mastering new skills
Nurturing positive change
Realizing a better you!
Essentially, personal and professional development as methods of lifelong learning create personal satisfaction! The awesome effects of development happen in the experience you have along the way. While the results are also great, the real gifts happen in the process of learning.
I have always loved learning and I look forward to continuing my growth and development as long as I live. Learning makes me feel like I'm part of something bigger; it makes me feel more alive! In addition, my professional success can be attributed to my passion for learning as I've continually gained new skills and experience and stayed current on new technologies.
There are many opportunities to learn and the best path to growth is to learn by doing. If you're motivated to achieve personal and professional improvement, here are some ways to develop your mind, body, and spirit.
Be curious
Lifelong learning starts with curiosity. Ask questions! Challenge yourself to wonder why and discover the answers.
You'll experience more joy and passion in life if you allow your curiosity to spark thoughtful living and personal development.
Read more
Read about topics that interest you, whether you are already comfortable with the topic or not. There's a wealth of information in books, newspapers, magazines, and blogs.
Libraries and blogs are wonderful and free resources for information and knowledge sharing.
Volunteer
A great way to learn new skills is to volunteer to do a job you don't know how to do. By the end of your service you'll surely know something you didn't know before, and you have the chance to give back to your community in the process!
Check out Volunteer Match for volunteer opportunities in your area.
Join a club
There are many personal and professional organizations and clubs centered around unique skill-sets and topics that provide the opportunity to participate and learn.
Find professional associations in your profession or industry, or join a club like Toastmasters International that offers great communication and leadership skills for anyone and everyone. Discover personal interest groups at Meetup.
Start a conversation
If you know a little about a topic and want to know more, join the discussion online.
Check out LinkedIn Groups, Google Groups, or Yahoo Groups. You can also comment on blogs and ask questions of blogging experts.
Find a mentor
Mentoring is a fantastic way to network and grow. A mentor is an experienced professional that guides a protege by offering tailored advice and insight into the protege's desired career path.
Some organizations have a mentoring program available to employees or members. You can also find someone you know and ask them to mentor you. Find a mentor that has something you want, like expertise or opportunity.
Take a class
There are many low-cost classes available through community colleges and local government programs.
Check out your local Workforce Center or Chamber of Commerce for educational programs available in your area.
Blog it
Writing a blog is a great way to learn more about a specific topic and share the knowledge you've gained with others! You don't have to blog about what you know- you can blog about learning as you go.
WordPress.com and Blogger offer free blogging platforms. (I recommend WordPress.com!)
Have fun!
The most important aspect of lifelong learning is to have fun! After all, if you're not enjoying it, why are you doing it?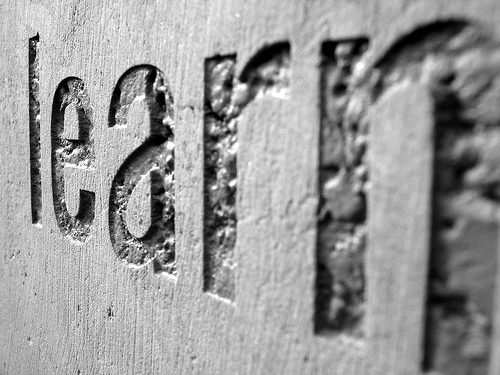 I love your comments! What's your favorite method of lifelong learning? How else do you grow personally and professionally?
Image courtesy of Mark Brannan.