The Happiest Years of My Life
When I started blogging about work-life balance, and personal and professional development, I began enjoying life more and more each day. It's not because my life is perfect, nor because I have everything I want- far from it! Life continues to have it's ups and downs, challenges and joys.
My happiness flourished when writing about loving my work and my life inspired me to make the most of life every day. Loving my life is a daily practice of purpose, growth, gratitude, friendship, and celebration. That's really all there is to it.
February is my bloggiversary! Two years ago this month I started Live Love Work. Little did I know I would grow personally and professionally, find wonderful friends, and experience new levels of happiness thanks to this blog.
The 7 Best of Live Love Work
How timely that I was nominated by my dear friend Deeone Higgs at Releasing Me Today for the 7 Links Challenge to share 7 of my best blog posts the month of my bloggiversary. I've lived, learned, and shared so much with you over the past two years, and here's the best of Live Love Work.
1. My Most Beautiful Post: Have a Little Patience
2. My Most Popular Post: How To Live Healthy: An Essential Guide to Self Care
3. My Most Commented Post: 37 Great Life Lessons in 37 Years
4. My Most Helpful Post: How to make the best of your mistakes
5. My Most Surprising Success: 6 Things You Aren't Doing on LinkedIn
6. My Post Most Deserving of a Second Look: Stop Negative Thoughts, Encourage Positive Thinking
7. My Most Fun Post to Write: Navigating Career Success Is Like Riding a Motorcycle
7 Insights into Live Love Work
In addition to the 7 Links Challenge, I am grateful to have been nominated for blogging awards by Deeone Higgs at Releasing Me Today and the lovely Amber-Lee Dibble at Alaska Chick's Blog. Both awards encouraged me to share 7 things about myself.
I previously shared 8 things about myself in my niche amnesty post, The Genuine and Quirky Chrysta Bairre, and I hope you check it out! Today I'm going to share 7 things about Live Love Work.
 1. The number 1 search term people use to find my blog is "positive thinking" and "think positive".
2. The number 2 search term people use to find my blog is "gratitude".
3. The search term that amuses me most is "Paul McGillion", which leads to my blog thanks to photo I posted of me and Paul McGillion in my niche amnesty post. (Really, check it out if you haven't already!)
4. My logo and blog design were created by my dear friend Erin Woodell at Moxie Image Studio.
5. I write most of my posts in 90 minutes or less.
6. My cat, Tiger, helps me write most of my posts. And by help, I mean sits on the desk and bats at my fingers while I'm typing.
7. Thanks to this blog, I've met more amazing and inspiring people than I can count on all my fingers and my toes!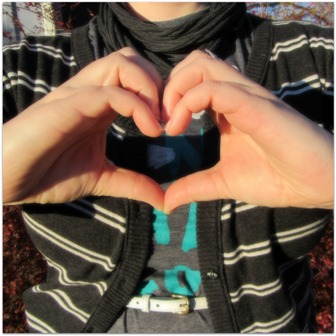 7 Bloggers That Influence Me
Thank you to each and every one of you for joining me on this amazing journey! I want to take a moment and give special thanks to a just a few of the bloggers that have influenced me so far.
1. The first blogger that inspired me: Janet Callaway at JanetCallaway.com
2. The friendliest blogger I know: Adrienne Smith at AdrienneSmith.net
3. A blogger I've learned a lot from: Samantha Bangayan at What Little Things
4. A blogger with a beautiful spirit: Deeone Higgs at Releasing Me Today
5. A blogger with wisdom and wit: Kelly Gurnett at Cordelia Calls It Quits
6. A blogger with leadership and heart: Jon Mertz at Thin Difference
7. A blogger that's just a lot of fun: Hajra Khatoon at Hajra Kvetches!
Thank you for celebrating my bloggiversary with me! I look forward to many great yearest to come!
I love your comments! What's your favorite post on Live Love Work? How did you first hear about Live Love Work? What topics do you want to read more of on Live Love Work?