"Gratitude unlocks the fullness of life. It turns what we have into enough, and more." ~Melody Beattie
Gratitude is the best attitude there is, and it's not just for one day, or every once in a while- gratitude is for every day! Gratitude gives me perspective, balance, and peace of mind. It's not about getting what I want, it's wanting what I've got.
When I practice a daily attitude of gratitude my life is better- a lot better.
Over the past year I've gone through a lot of change and during all that change my daily practice of gratitude became an occasion practice of gratitude. And I felt the difference in my life. I was more often frustrated, unhappy, and felt stuck. I wanted to get unstuck!
I knew to get unstuck I needed to make gratitude a regular part of my day, every day. I needed to find that perspective, balance, and peace of mind I get from gratitude. From the awareness that things are never as bad as they might feel, from the awareness that there is always something good in life, from the awareness that right now, in this moment, I'm okay, even when things around me aren't okay.
So what does it take to cultivate an attitude of gratitude? There are so many wonderful ways to practice gratitude!
01. Say thank you to someone new every day
02. Do something nice for someone else
03. Do something nice for you!
04. Pay someone a compliment
05. Speak positively about yourself
06. Overlook something you don't like about someone else
07. Recognize something you like about someone you don't like (There's goodness in every one!)
08. Make a positive impact in the world- volunteer!
09. Practice gratitude in action- act thankful and you will feel thankful
10. Practice gratitude in thought- think thankful and you will feel thankful
11. Practice gratitude in words- speak thankful and you will feel thankful
12. Give a hug
13. Give a smile
14. Send someone a card for no reason
15. Call someone you love just to say, "I love you"
16. Write down 3 things you're thankful for
17. Make an A-Z gratitude list (One gratitude for every letter of the alphabet!)
18. Start a gratitude photo journal
19. Participate in a Gratitude Challenge (Try my 30 Day Gratitude Challenge!)
20. Make space for gratitude by letting go of something you've been holding on to

Photo credit Bart Maguire
21. Don't gossip
22. Don't complain
23. Focus on what you can do, not what you can't
24. Do something you love
25. Find fun in everything you do
26. Stop worrying
27. Enjoy the little things
28. Choose to see the beauty in each day
29. Spend time with a child
30. Snuggle up with a pet
31. Cook a homemade meal
32. Enjoy a meal free of distractions
33. Declutter your digital life
34. Declutter your personal space (Fill your space only with things that help you be more awesome!)
35. Exercise your body
36. Exercise your mind
37. Exercise your heart
38. Be present in this moment
39. Respond, don't react
40. Don't attend every argument you're invited to
42. Love yourself, love your life!

I love your comments! How do you practice gratitude?
Join the Conversation
Lately I've been doing a lot of thinking. Thinking about how things are and how I want them to be.
I don't control life. All I can do is my best on any given day. How it all works out- well that's the result of not just my actions but the actions of thousands- maybe even millions- of people, each doing our part and affecting the world in a thousand small and sometimes big ways. My point is, I don't control life. I can do my part and that's all I can do. What happens next, that's not up to me.
I need to be reminded that it's not up to me because I've been spending a lot of time thinking about how to change things- how to get a better or different outcome. My actions certainly do affect my life, but when I'm already what I can, then I'm doing all I can do.
So thinking about thinking got me thinking. (Wow, that sentence was exhausting just to type! Overthinking much?) I've been doing so much thinking about my life, I forgot to stop and just enjoy life.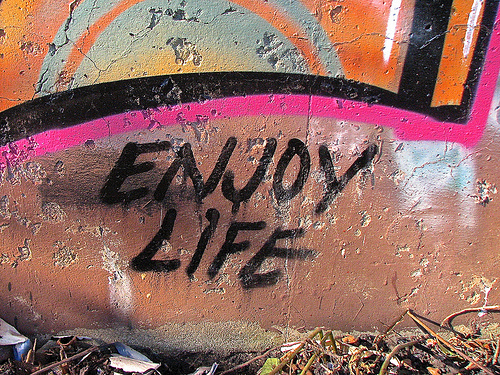 Photo via Don Shall
Enjoy life.
Experience all that today has to offer and not worry about the outcomes of tomorrow. What am I doing today that's important? How can I embrace this day? How can I enjoy it?
Be grateful. Have fun. Show kindness. Feel love. Be silly. Indulge in "me" time. Go for a walk. Do something that matters. Celebrate. Be in the moment.
My invitation to myself, and my invitation to you, is to simply enjoy life today.

I love your comments! How will you enjoy life today?
Join the Conversation
There's one thing you really should do today and that's stop shoulding yourself! How many of those things you should do are really necessary? How many of those shoulds make your life more awesome? Do you have the time/energy/money to do more than you're doing?
Now when I say, or write, "you" I am including myself in that statement because lately I just can't seem to shake the shoulds. You see, I had this plan. And my plan hasn't exactly worked out as planned. And that's mostly okay, but I can't seem to let go of the plan. I keep shoulding myself as if all those shoulds will get me exactly what I want, even though I know I'm already doing what I can.
Now I know, I know, life rarely goes according to plan. And I know it's the day-to-day experience of life that counts, not the heft of my portfolio and resume. All that stuff is good, of course, but my portfolio and resume is not my life. This is my life- this right here, sitting at my computer writing this blog post and hoping to convince myself, and maybe even you, to live life and love life.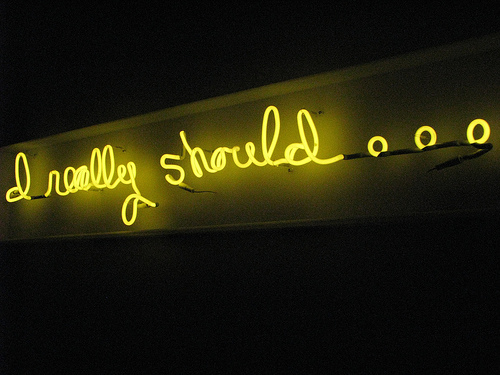 Photo by Sookie
Goals are good. Plans are good. We need motivation and direction and inspiration to be happy. At least, I do. But I also need to take care of myself, my family, and just enjoy life!
Back to my plan, well, it not working out as planned hasn't been bad nor has it been especially good. It's just been. I'm entering a whole new phase of my professional life and everything is different. I tell myself if I do x/y/z then I'm sure to be successful.
Only there's no guarantee I'll get the results I want. And even if I did, what is it really worth if I don't enjoy getting there?
Day-to-day I'm doing the best I can do to embrace and celebrate life. The truth is it's been hard to adjust to this new direction for my career and adding on a few health problems has made the last few months more of a challenge.
I'm already doing what I can, and it doesn't really matter what the experts say I should do to be successful. It doesn't matter what other people think of what I do. It's my life, and I'm doing what I can with it.
At the end of the day, all I can do is what I can do. And what I can do is enough.
At the end of the day, all you can do is what you can do. And what you can do is enough.
At the end of the day, all you can do is what you can do. And what you can do is enough.
No more shoulds. No more guilt. No more feeling inadequate because you should have done something different, or should have done something more.
Do what you can with what you have, right where you are. Live each day while you're in it. Find meaning in the experience of the day- not what you have to show for it.
Be happy. Be well. Just be.
Join the Conversation