For years I was unhappy with my life. Overall I had a positive attitude but I felt trapped by the circumstances of my life. I tried to look on the bright side but I was still mostly unhappy.
What is happiness? How happy or unhappy I feel is determined by the way I relate to the world. My behavior creates happiness or unhappiness.
What does this mean? It means I choose to be happy or unhappy. It means my enjoyment of life is exactly what I make it.
Many of my behaviors created unhappiness in my life and when I began to change my behavior, I became a lot happier.
Ways you create unhappiness (and how to create happiness in it's place!)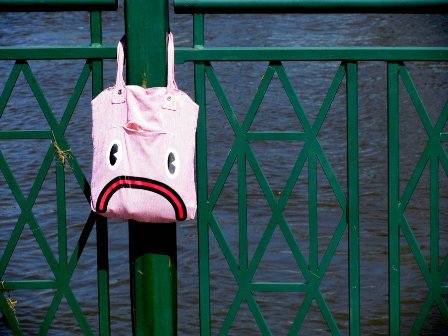 Photo by ChancheZ
01. You complain
Let's face it, sometimes life sucks. I'm not going to tell you life is all sunshine and rainbows and puppies.
But you know what- the more you complain, the bigger those little sucky things become in your life experience. Complaining about what sucks amplifies unhappiness.
How to create happiness
Be grateful! Just like talking about your complaints puts the focus on your negative experiences, gratitude puts the focus on your positive experiences.
02. You don't take care of yourself
Do you find you're often running on empty? Do you meet your own needs? Do you skip meals, bottle your emotions, isolate yourself, or have an inconsistent sleep schedule? When you're consistently hungry, angry, lonely, or tired you're going to feel unhappy.
How to create happiness
Practice self-care! Take good care of your mental, emotional, and emotional health and you're setting yourself up for happiness. Do it mindfully every day, not as an afterthought but with loving consideration for your own well-being.
03. You don't say no
It's easy to fall into the trap of saying yes. Maybe you feel obligated. Maybe you don't want to let someone down. Maybe you just want to be helpful. Maybe you're afraid of negative consequences.
Whatever the reason, saying yes too much is a recipe for unhappiness! You'll start to feel overwhelmed, resentful, burned out and unhappy!
How to create happiness
Take a moment and check in with yourself before you reply to a request. Ask yourself, "am I truly willing and able to take on this request?" If not, say no.
04. You're judgmental of others
Critical thinking is a wonderful skill that helps you learn and grow but when that same skill is applied to others you stop using it to better yourself and create unhappiness in your life.
Here's why- you don't control others so spending your time and energy judging others is not productive and creates distance, frustration, and resentment in your relationships.
How to create happiness
Put the focus on yourself! Pay attention to your life and how you can learn and grow. Be as awesome as you can be today and let other people be responsible for themselves.
05. You hold grudges
People can be jerks. You've been wronged. You've been hurt. And you're not going to forget it or forgive it.
But there's truth to the saying that resentment is like drinking poison and waiting for the other person to die- it hurts you more than anyone else.
How to create happiness
Let go of your grudges. Use negative experiences to learn instead of poisoning yourself. Try writing down your feelings and leaving your grudge on the page. You don't have to carry that around with you all day, do you?
06. You compare yourself to others
Some people just seem to have it all. Or, at least, you want what they have.  You're not as good as they are. Then there's the other people that are way below you. You're so much better than them, and thank goodness.
"Comparison is the thief of joy." ~Theodore Roosevelt
Only, unfortunately, comparing yourself to others is likely to lead to your unhappiness. It isolates you from others and puts you in that judgmental mindset I mentioned before. It's no good for your happiness.
How to create happiness
Embrace yourself! Stop comparing yourself to others and celebrate the awesome person you are. Don't worry about other people, be the best you can be.
07. You don't love yourself
How can you be happy when you don't believe you deserve good things? The answer is you can't.
How to create happiness
Love yourself! Know you are awesome with amazing skills and talents to share with the world. Believe you deserve good things. Believe in yourself. Love yourself. You're so beautiful.
Join the Conversation
Have you ever known a drama queen? Someone that takes things personally, gets overly emotional, and insists everyone hear about it? Someone that creates drama by placing their concerns above everyone else's.
I have worked with several drama queens- male and female. Not only is their behavior obnoxious, it's distracting and destructive. It can poison relationships I have with the people they complain about. It encourages me to focus on the negative instead of the positive. Listening to their rants takes time away from the work in front of me. Morale dips as everyone deals with their negative energy.
I have recently been dealing with such a drama queen. Every time time this person came around I found myself getting caught up in the drama and the more I focused on the drama, the less I was being my most awesome self. I needed a strategy for dealing with this drama queen! Here's what I came up with and I'd love to hear your ideas.
How to deal with a drama queen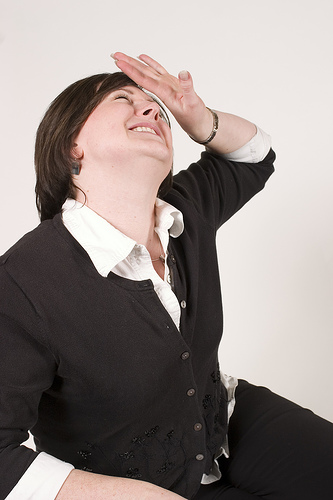 Photo by Chris Blakeley
Don't engage
Drama queens are fueled by roping others into their drama- don't pick up the rope!
The drama queen I worked would rope me in by expressing concern and asking my opinion to engage me in a conversation. Before I knew it I was playing a supporting role in their drama.
Instead of engaging I can change my responses. For example, I can say, "Perhaps you should talk to him about this directly", or, "that sounds like a difficult situation- good luck working it out." By keeping my opinion out of it, I may be able to avoid participating in the drama.
Limit your interaction

You don't have to attend every drama you're invited to.
The last interaction I had with a drama queen wasted over 20 minutes of my time- time I could have spent being productive and getting work done. At the end of the workday I was behind and I realized I allowed it to happen by interacting with a drama queen just because they came into my office and sat down in front of me.
I can limit my interaction with drama queens with honesty by being true to myself. Next time they plop down in my office I can say, "I'm sorry, I don't have time to chat today; I have a lot of work to do."
Don't buy in
Drama queens have a skewed perception of life- don't let their reality alter your own.
I know a drama queen that's a master manipulator, though I doubt they realize this about themselves. In the beginning of my relationship with them, I bought into their perception and it changed how I viewed certain people and situations at work. The manipulation was so subtle and it was easy to believe what they said was true. Once I caught on to this behavior it was shocking to see not only how I had bought in, but how they altered the perceptions of other employees.
Lesson learned: don't believe everything a drama queen tells you. I will look for evidence that what they say is true or untrue and make up my own mind.
Don't judge
Drama queens appoint themselves as supreme judge over the entire world! Don't judge and you're not adding to the drama.
Once I realized what the drama queen was up to, I found myself wrapped up in my judgement about them. I was so focused on the drama queens behavior that I wasn't focusing my energy on areas that would benefit me. Yes, their behavior was bad but as long as I allowed myself to be distracted by judgement my behavior wasn't much better.
The problem with judging others is it puts me in a negative state of mind and keeps me from doing something positive- no more! I have little to gain by judging others and too much awesomeness to lose.
Be awesome
Drama queens want all eyes on them. Instead of focusing on them, focus on you and be as awesome as you can be!
I have given too much of my time and energy to drama queens. I've got better things to do. Every time I get caught up in someone else's drama, I do less of what makes me awesome. Fortunately the reverse is also true. By doing more of what makes me awesome I am far less likely to get caught up in the drama queen's drama.
All I have to do is be awesome!
Join the Conversation
Hey there! Did you know you're awesome? It's true! We're all awesome (yes, even that jerk that cut you off in traffic). You're awesome just for reading this blog today. True story.
Though it's also true that awesomeness comes easier to some. Too often we squash our own awesomeness with preconceived notions, unrealistic life expectations, shoulding ourselves, and all that other crap we put on ourselves.
But enough about that crap! Let's focus on ways to shed yourself of it and, as a result, be more awesome! Since my 39th birthday is on Monday, here's 39 ways to be awesome! Woo!
39 Ways to up your Awesomeness Quotient
01. Smile
02. Do your best and forget the rest
03. Be curious
04. Be inspired
05. Be influential
06. Have fun in all you do!
07. Be excited (and show it!)
08. Be passionate
09. Get shit done!
10. Learn something new
11. Share knowledge
12. Be kind to everyone you meet
14. Be honest
15. Take responsibility for your thoughts, feelings, and actions
16. Say you're sorry and do it differently next time
17. Say thank you
18. Be helpful
19. Be spontaneous
20. Say what you mean
21. Do what you say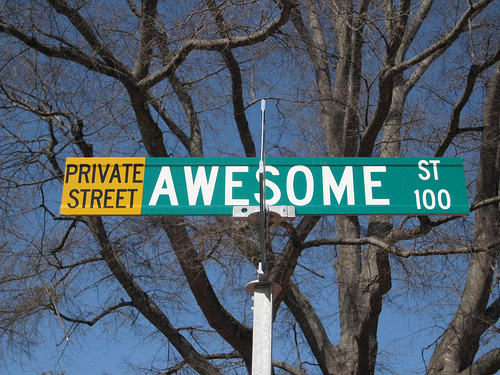 Image via moonlightbulb
22. Expect less and appreciate more
23. Be patient
24. Give before you get
25. Want what you've got
26. Delete one item from your to-do list that doesn't really need to be done
27. Celebrate your accomplishments
28. Praise others
29. Be confident
31. Don't take life too seriously
32. Be yourself!
33. Accept differences in others and appreciate them for it
34. Say no
35. Disappoint the right people
36. Make the best of today
37. Accept life on life's terms
38. Love life
39. Go forth and be awesome!
Join the Conversation